6 things you can do to show solidarity with people who use drugs and help end the opioid crisis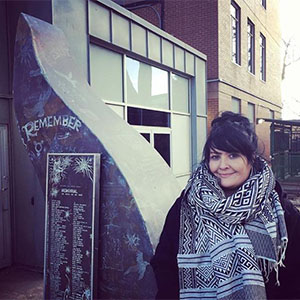 By Zoë Dodd & Alexander McClelland
At the opening of the recent 25th Harm Reduction International Conference in Montreal, the Minister of Health Jane Philpott announced that more people have died in the overdose epidemic in the past few years than died during the height of the AIDS crisis in the late 80s and early 90s. In 2016, it is estimated that 2,300 people died of overdose—preventable deaths caused by the prohibition of drugs.
In response to that sobering and sad announcement, we wrote an article asking for people engaged in the response to HIV to show support and solidarity with people who use drugs. We believe that making connections between the two epidemics can help build solidarity, increase public support and mobilize people into action to address the national overdose crisis. We wrote:
"People who have lived through the AIDS crisis, who work in HIV organizations, who call themselves allies of the HIV community, who have attended an HIV fundraiser, who have learned about the history of AIDS activism, we make an appeal to you: The time for you to step up and end the massive injustice taking place against people who use drugs is now. We need more resources. We need the government to take our solutions seriously. We need the overdose epidemic to be declared a national emergency. Help us do this."
So what can you do if you want to show support and solidarity? Here are six things you and your organization can do:
1. Support networks of people who use drugs!
The Canadian Association of People who Uses Drugs (CAPUD) is a national network working to raise the voice of people who use drugs throughout the policy-making process at every level of government. You do not need to be a user to support CAPUD; you can join as an ally, you can donate funds, you can donate in-kind support and resources, and your organization can partner with them on initiatives. In various cities across Canada there are also local networks of people who use drugs, such as the Toronto Drug Users Union. Find these networks, connect with them, work with them and offer them support.
2. Make your organization a safe and supportive place for people who use drugs.

Take action to end stigma against people who use drugs and support the leadership of people who use drugs in your organization. Undertake an organizational scan to understand how your organization is supporting people who use drugs. If your organization is not currently supporting people who use drug, why not? How could you do better? Are your workplace policies supportive of active drug users or are they harmful? Does your organization meaningfully include people who use drugs in all decisions that impact them? Work to implement supportive policies to create an enabling environment for people who use drugs in your organization. If your organization has lost funding for harm reduction, HIV, Hep C support and prevention, speak out publicly about it. Support other organizations who are speaking out. Speaking out about cuts to harm reduction funding is also overdose prevention work.
3. Understand the specifics of the overdose crisis in your community.

Don't rely on sensationalized media reports. Connect with experts, including organizations of people who use drugs, to get accurate information. Help spread credible information and dispel rumours and false reports. If you see stigmatizing media coverage or ideas being circulated publicly, write a public response or letter to the editor, and have conversations with each other. Publish supportive messages to counter stigma.
4. Speak out publicly—as an individual and as an organization—to raise awareness about the overdose crisis.
Host a community conversation on the opioid crisis and invite a speaker from a local drug-user organization to speak to your organization. Get access to drug-testing kits and host a drug-testing workshop to help users, in your organization or in partner frontline organizations, know what is in their stash. Join actions and campaigns happening in your community. Show up.
5. Understand your own personal position.
Do you support the legalization or decriminalization of drugs? Does your organization? Why or why not? Educate yourself and your organization on broader issues impacting people who use drugs, such as criminalization, legalization and discrimination. Join the voices of others who are calling for an end to prohibition and for decriminalization, which exist in different forms in 25 different countries around the world. Decriminalization is an evidence-based approach to reduce overdose deaths. Be public about your position, and be public about your organization's position. Speak up and show leadership!
6. Contact your municipal, provincial and federal representatives and demand action and accountability now.
Counter NIMBYism (the Not In My Back Yard mentality) by becoming a vocal harm-reduction YIMBY resident in your community, someone who says "YES In My Back Yard" to harm reduction services. In written form, individually and organizationally, show support for the demands on the government called for by people who use drugs: Declare a national public health emergency with immediate action and resources. Demand the immediate opening of supervised consumption sites, increased access to opioid treatments, increased funding to grassroots harm reduction initiatives, prioritized leadership of people who use drugs, increased funding to local groups that build the capacity of people who use drugs, and the immediate decriminalization of people who use drugs. Call for the legalization and regulation of all drugs.
Zoë Dodd is a Hep C Program Coordinator at South Riverdale and Regent Park Community Health Centres. She has been working on issues of harm reduction, Hep C, poverty and HIV for well over a decade.
Alexander McClelland is completing a PhD at Concordia University and his work focuses on issues of criminalization, autonomy and HIV. He is a member of the Canadian Coalition to Reform HIV Criminalization.
The authors wish to thank Jordan Westfall of CAPUD for support in developing this post.