Why is public health unfair? The story of monkeypox, COVID-19 and HIV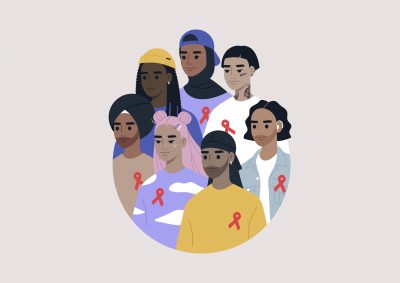 The development of COVID-19 vaccines has allowed some people to return to "normal life". But even now, not everyone can access these vaccines, particularly people living in low-income countries.
Unequal access to healthcare is a sadly familiar story for people living with HIV. From 1997 to 2006, an estimated 12 million people on the continent of Africa died because HIV treatment was too expensive.  
In this episode of HIV Unmuted, the award-winning IAS podcast, we will discuss why these parallels in unfair healthcare access are showing up time and time again, look at the recent monkeypox outbreak and assess whether we have learned the critical lessons from COVID-19 and HIV.
Meet our guests:
Patricia Asero Ochieng is the chairperson of the International Community of Women Living with HIV in Kenya. She was diagnosed with HIV in the 1990s when her daughter was born. In Kenya at the time, access to HIV treatment was scarce and stigma was rampant. Patricia knew the answer lay in access and began advocating for treatment.
Eric Goemaere is an infectious disease specialist with a career spanning 40 years with Médecins Sans Frontières. When Eric arrived in South Africa in the mid-1990s, he was ready for a challenge, working on the biggest HIV epidemic in the world. Little did he expect the greater challenges of access to HIV treatment he was about to face.
Meg Doherty is the director of the Department of Global HIV, Hepatitis and Sexually Transmitted Infections Programmes at the World Health Organization (WHO). Meg helps us to understand why – even when we have the science and means to deal with outbreaks – we continue to have unequal outcomes in global health.
Mike Ryan is the executive director for the WHO Health Emergencies Programme. Being at the forefront of managing acute risks to global health for nearly 25 years, Mike discusses pandemic preparedness and access issues in global health and applies this to the current monkeypox outbreak.
Rena Janamnuaysook is a program manager for transgender health at the Institute of HIV Research in Bangkok, Thailand, where she established the Tangerine Community Health Clinic, the first trans-led health clinic in Southeast Asia. When COVID-19 hit, she had to pivot at the local level to address the issues that globally continue to hamper our pandemic responses.
"The inequities of the COVID-19 pandemic are no surprise to people living with HIV, in Canada and globally," said Laurie Edmiston, executive director of CATIE. "Even when we have the tools to prevent, diagnose and treat viral epidemics, they aren't rolled out to everyone. But the HIV movement has had more success than any other health movement at shining a spotlight on this problem, and working to change it. This podcast episode is a timely look at how we can build a more equitable response to HIV as well as to emerging viral epidemics of the future."
Listen to the podcast episode here.
The IAS (International AIDS Society) unites scientists, policy-makers and activists to galvanize the scientific response, build global solidarity and enhance human dignity for all people living with and affected by HIV.