What role do seniors play in the HIV community: A personal perspective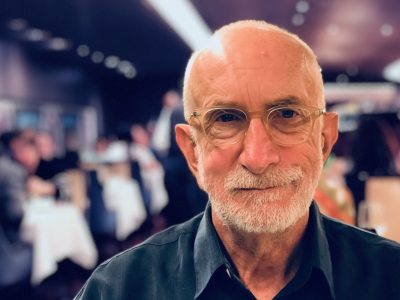 To understand the breadth and complexity of aging with HIV, one really needs to experience it. Much of the dialogue, though, is driven by those who haven't. That is particularly apparent with respect to issues affecting our elders. And that is why my interest is not so much in HIV and aging as in HIV and the aged. In other words, the destination is as important as the journey.
I'm 74. I've lived with HIV for 30 years. Over that time, I've seen major advances in HIV prevention, in treatment and in care. I used to see my HIV specialist every three months, then every six months. Now it's just once a year, even less during the COVID-19 pandemic. I take my pills every day and that couldn't be more routine. My viral load is undetectable. HIV is not a large part of my life, even less in semi–retirement. I don't experience HIV stigma, first because I'm privileged, second because I have been out almost since day one and third because I would never, ever tolerate stigma to intrude in my life.
If this sounds like an almost HIV-free existence, it is and it isn't. HIV hasn't killed me as I originally thought it would in those dark days before effective treatments were to be had. However, those co-morbidities – an ugly word to describe two or more health conditions experienced simultaneously – inevitably intrude with advancing years. I can't say I'm well now, and HIV may well be the culprit. My cardiovascular disease, for which I'm currently awaiting open-heart surgery, is likely HIV-related; my surgeon thinks so and the evidence seems to back him up. Similarly, my peripheral neuropathy is almost certainly the result of exposure to early HIV drugs. HIV-associated neurocognitive disorders (HAND)?  Who knows? I see similar memory loss and related issues with non-HIV-positive friends and colleagues. The bottom line, though, is that from where I sit, long-term survivorship often comes with a price. That price is ill health.
So, while I see my HIV specialist very infrequently, I'm no stranger to doctor's waiting rooms, pharmacy counters and even emergency rooms.
Another place I seldom, if ever, visit is my local HIV service organization. It offers nothing specific to older adults like myself and I'm not in need of the kind of practical assistance it offers to all. But then I'm a privileged adult, so I don't experience HIV, or life in general, in the way the more marginalized or less fortunate folks do.
All of that raises the question: what is the role of the HIV organization in the lives of the HIV-positive elderly? Can people living with HIV in their 70s feel welcome, needed and expect services relevant to their needs? Do the greater involvement of people living with HIV/AIDS (GIPA) and the meaningful engagement of people living with HIV/AIDS (MEPA) still apply? When end-of-life issues are fast approaching, is there a place for the wider HIV community to express some interest in the challenges which our older adults inevitably are facing? The reality is, I think, that we don't really know. Despite a large cohort of seniors battling a smorgasbord of HIV-related co-morbidities, not to mention frailty, hearing, vision and mobility issues, we don't really know what their needs are. And what about end-of-life issues? Our many attempts to address HIV and aging just don't address the inevitable.
I was happy to see some baby steps, though, towards understanding the needs of our older adults. Preferences and Needs for Aging Care among HIV Elders in Ontario (PANACHE), for example, a partnership project of Realize and University Health Network (UHN), is a welcome step. The team set themselves the goal "to conduct a national survey that gathers data on the care needs and preferences of older adults living with HIV from across Canada". With further intentions of informing "program development/adaptation and policy advocacy to fill gaps in the HIV care cascade for older adults and improve their health and quality of life."
Is it too late, though? The elderly are, by and large, missing from the ranks of clients, no longer decision-makers, no longer seen at conferences. No longer volunteering, and with a few exceptions, no longer vocal advocates. Maybe those missing have lost interest, maybe they don't travel well, or maybe they just can't do the work anymore (I know that feeling well!). Maybe HIV is no longer a priority for them. There are far too many unknowns about a population increasingly making up a large segment of the HIV-positive community. And while the services our elders might need are increasingly more likely to fall under the umbrella of other agencies and the healthcare system in general, that doesn't mean HIV service providers can't or won't play a role. Preparing aging adults for old age is an example. Preparing housing authorities to accept and accommodate HIV seniors is another.
I do believe our elders have much to offer, whether it be as mentors to a younger generation of advocates or as custodians of our history, or more. I am proud of being an elder. As I enter retirement, I'm reluctant to see a clean break with the community I love after so many years of being active. At the same time, I'm uncertain of how I might fit in and even if my health will hold up. Fundamental questions remain, like "Does the community need me or do I need them?" I may need another few decades to discover the answers.
Bob Leahy is from Warkworth, Ontario and has lived with HIV since being diagnosed in 1993. Formerly the publisher of PositiveLite, he has been a frequent commentator on issues affecting people living with HIV.