The challenges of STI testing during COVID-19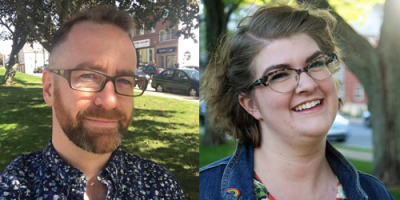 Nova Scotia is no stranger to syphilis. Back in 2012, the province saw a spike in cases – almost double compared to the year before. In early 2020, another outbreak was identified with a 60% increase between 2018 and 2019. This latest outbreak was different in two key ways: it was predominantly among women, and not focused solely in Halifax.
"We're not really saying that any region of the province is particularly spared, which is different again than the 2013 outbreak that was largely in the city," said Dr. Gaynor Watson-Creed, Nova Scotia's deputy chief medical officer of health.
Which meant that the lessons learned from the 2012 outbreak couldn't be applied to the current outbreak. Public health and sexual health organizations, like the community-based Halifax Sexual Health Centre (HSHC), started brainstorming ideas: pre-filled requisitions for blood testing, creating stronger links between public health and community-based testing, and asking for increased funding.
But then COVID-19 happened.
Folks don't always realize the strong connections between sexually transmitted infection (STI) testing and the novel coronavirus disease (COVID-19). The impact goes beyond physical distancing, limited clinic access and reduced services. STI testing and the COVID-19 pandemic use the same healthcare resources: lab capacity, testing swabs and infectious disease specialists.
Swabs repatriated, appointments cancelled
In Nova Scotia, sexual health services were some of the first to be restricted. All viral swabs, normally used to test for herpes, were repatriated to the provincial lab to be used for COVID-19 testing. The STI Clinic at the Victoria General Hospital in Halifax, Nova Scotia's only drop-in STI testing site, closed. Medical offices, including HSHC, restricted their services to essential visits only, and transferred many services to telephone calls. The lab limited their intake to essential samples only. Eventually, all swabs were repatriated to the provincial lab. This meant limited anal swabs, no throat swabs, and an unexpected change for people who were used to giving vaginal swabs having to switch to providing urine samples.
The largest concern for both practitioners and patients alike is that folks may slip through the cracks. As we cancel and postpone appointments, we have no guarantee that the patient will re-book after restrictions are lifted. Many people wait until they are at HSHC for other reasons, such as a Pap test or birth control renewal, to ask for an STI test. People often have a hard time discerning their own risk factors and may not know that their sexual activity warrants an STI test, even during a pandemic.
So what's next?
Sexual health advocates across Canada are raising the alarm. While COVID-19 is restricting access to STI testing and treatment, it isn't stopping sexual activity. And during this time, we are not treating those who aren't going in for testing, who may have an undiagnosed infection. We are facing the very real possibility that once COVID-19 is better controlled, Canada will see a wave of STI outbreaks.
What can be done? Now is not the time to let up on the gas around STI education. Sexual health organizations need continued support. The dawn of at-home HIV testing is on the horizon, but HIV is just one STI of many. School boards will need to recognize the importance of sexual education. These classes are not the lessons to skip while classes are offered online. Public health will no longer be able to put sexual health on the back burner, with non-profit and community organizations picking up the pieces of a public health crisis.
Kirk Furlotte (he/him) is the Atlantic regional manager for the Community-Based Research Centre (CBRC). He has undergraduate and graduate degrees in health promotion from Dalhousie University. He has worked in queer and trans health research and education since 2010.
Abbey Ferguson (she/her pronouns) has been the Health Promotion Coordinator and Medical Office Administrator at the Halifax Sexual Health Centre since 2016. She is a Mount Saint Vincent University Women's Studies Honours alum. She is also a certified Abortion Doula. In her free time, she plays competitive roller derby at the international level. When teaching sex-ed to youth, her favourite question to answer is how to feel the cervix!