Redeployed: A hepatology nurse on the COVID-19 front lines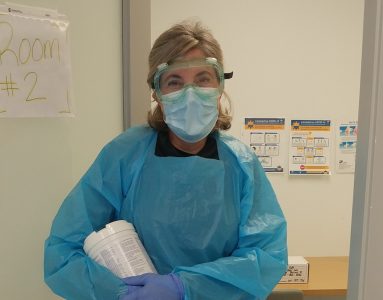 I have worked as a nurse in the Downtown Eastside of Vancouver, or what we call DTES, for almost 20 years, first for the University of British Columbia and now for the Vancouver Coastal Health Authority, based at Pender Community Health Centre.
My specialty is hepatitis C (HCV) clinical support, and I have been extensively involved in HCV research, throughout the treatment evolution. However, my day-to-day activities have now changed. The novel coronavirus disease (COVID-19) hit Vancouver and overnight the frontline clinics had to switch gears. We are now doing everything we can to prevent, protect and test for COVID-19. But, hepatitis C care must continue for people on treatment and for those who are ready to start treatment.
Testing sites pop up around the DTES
 A COVID-19 testing site has been established in the DTES where I now work four days a week. The daily team is staffed by three nurses, an administrator and a security person. Screening, assessment, education and testing for the virus are provided with follow-up test results within 24 hours.
This low-barrier testing site opened in early April and offers services daily from 9 a.m. to 4 p.m., seven days a week. Prior to this, testing referrals were being coordinated through the STOP HIV/AIDS program, with patient information being sent to B.C.'s public health authorities. Confirmatory testing was then scheduled with appropriate follow-up care.
However, as testing became decentralized, the DTES testing site was created on the spot – with great attention to infection control and infrastructure – to offer testing for symptomatic individuals and those who may have had possible exposure, regardless of symptoms. Testing for COVID-19 is now provided at several inner city clinics, as well as at the designated testing site.  STOP HIV/AIDS deploys a testing van to various locations throughout the DTES, seven days a week.
Working triage at the front of the clinic
On Fridays, when I'm not at the COVID-19 testing site, I have been assigned to the triage team at the front gate of the Pender Community Health Centre. I work with an infectious disease physician and a broad range of healthcare professionals at the clinic. Nurses with experience in hepatology are a critical part of the care team because we know which patients are planning, starting or currently accessing hepatitis C treatment. The nurse knows who needs lab work, who requires an escort to an ultrasound appointment, or who needs a physician consultation. The more familiar a nurse is with the purpose of the visit, the fewer delays and inconveniences occur.
During the COVID-19 pandemic, infection control concerns allow for only one physician to be designated to see patients face to face on a given day, when necessary. Although three chairs are permitted in the waiting room, many patients are seen curbside to pick up prescriptions, discuss concerns or have hepatitis C medications dispensed in dosettes. The clinic continues to deliver ambulatory and wound care, blood draws and vaccinations, as these services are all deemed essential for maintaining good health.  Prescriptions for medications, opioid agonist treatment and safe supply are being written for longer durations. The healthcare staff observe the green, yellow and red zone restrictions within the clinic and designated direction of movement to avoid contact, as much as possible.
Unfortunately, we are no longer processing serology, antibody or genotype testing for hepatitis C because all provincial labs in British Columbia must prioritize COVID-19 cases. Hepatitis C testing will resume once we get a better handle on the pandemic. Thankfully, the requirement to prove genotype and RNA testing before accessing treatment has been loosened by B.C. Pharmacare. Perhaps this practice will be maintained once the COVID-19 pandemic ceases.
A flexible approach improves the patient experience
Triage on Fridays happens at the front entrance of the clinic where patients are asked if they have a cough, fever or any shortness of breath. We recently started taking temperatures prior to admission to the clinic. We are now in receipt of temporal thermometers which are less invasive and produce a result rapidly. Being at the front of the clinic, and intervening as a team, enhances patients' experiences in many ways. Because we need to be flexible in our approach, nurses, physicians and social workers will at times see patients for visits on the sidewalk. It really depends on what both patients and staff are comfortable with.
We've seen an increased demand for food, so we have been offering snacks, beverages, fruit and hot soup to patients from our hamper on a daily basis. We continue to offer harm reduction supplies, but people are no longer allowed inside the clinic to access the needle exchange service. Instead, materials are distributed through a window that opens up to the street.  Unfortunately, movies are no longer playing in the waiting room for patient entertainment, and people aren't allowed to visit or hang out if they're not there to receive services.
How we have changed to respect physical distancing
The Pender clinic has taken numerous precautions in order to protect our healthcare workers, staff and patients. Receptionists have been moved to respect physical distancing. Many counsellors and physicians are working from home, providing consultation over the telephone. The clinic now has a structured direction for walking in hallways, designated isolation and COVID-19 testing rooms, and some areas off limits. Meetings of all staff in the clinic are held by video conference every morning prior to opening, instead of meeting together in the common area. These meetings are necessary to update staff on provincial directives and procedures that change on a daily basis as we learn more about the virus.
At the end of a day, working as a triage nurse, success is measured by having responded to patients' needs in a timely manner with a positive attitude. Patients should leave the clinic feeling good about their visit and not walk away in frustration because the new screening methods have caused delays or misunderstandings. It's a fine balancing act of respecting patients' and physicians' time, providing nutrition and fresh water, following infection control guidelines and trying to maintain patient confidentiality, regardless of whether you are providing care inside the clinic or at curbside.
Lesley Gallagher works as a hepatitis C nurse clinician at a clinic in Vancouver's inner city within the Vancouver Coastal Health Authority and in Saskatoon, for the Saskatchewan Infectious Disease Care Network (SIDCN). She is the vice president and the education director for the Canadian Association of Hepatology Nurses (CAHN).