Harm reduction during a pandemic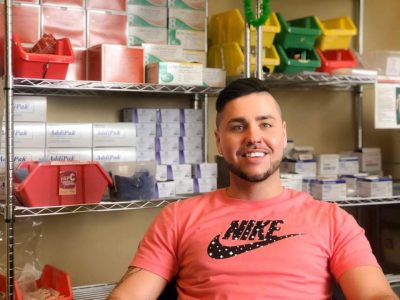 The novel coronavirus disease (COVID-19) has proven to be a struggle for everyone, regardless of their lifestyle, but people who use drugs are finding it especially difficult to navigate these unprecedented waters. Whether they're currently using, en route to recovery, or in active recovery, this virus has and will continue to challenge these individuals.
Drug users don't get to take breaks, even during a pandemic
Now more than ever, we need to step up and provide support when and where we can. Here at the AIDS Committee of Newfoundland and Labrador (ACNL), we are continuing to provide services to those who rely on us. Through our Safe Works Access Program (SWAP), we are continuing to provide access to sterile needles for people who use drugs. With proper precautions in place, there should be no reason to turn anybody who is seeking support away.
SWAP has been in operation since 2005, and the service has witnessed exponential growth over the last couple of years, demonstrating the need for this kind of support in the province. We provide free harm reduction supplies and services, including support for safer injection, safer inhalation and safer sex. SWAP also offers substance use education, naloxone training and referrals to other supports. Our mobile outreach program helps reach those who can't make it to the main building, and our mail-out program distributes supplies to people living in remote areas across the province.
Adapting to the new norm: delivering services during COVID-19
But all is not normal. To protect the health of our staff and service users, we have made changes to our service delivery. We have reduced our office hours, cancelled volunteer shifts, reduced the number of staff working in the building, and visitors can only speak with staff through an intercom. When entering the building, staff are now required to sanitize and wear personal protective equipment when appropriate.
At the same time, we have made adaptations to our services that will allow us to meet our clients' needs while maintaining physical distancing. Our mobile outreach program now offers contactless delivery of harm reduction supplies, we provide a take-home naloxone training kit for overdoses, and we are encouraging our clients to take more supplies than normal to reduce contact and to be better prepared. We are also offering COVID-19 education to our service users, particularly about how to use drugs more safely during the pandemic.
The effects of physical distancing on people who use drugs
When it comes to substance use, a lot of people use drugs because they're trying to feel connected to something or they're trying to manage the emotions they're experiencing. Physical distancing and feelings of isolation could trigger higher substance use and lead vulnerable individuals to potentially relapse. It's especially dangerous for those in recovery who may feel pushed to use again and then, in turn, are at a higher risk of overdose.
What helps a lot of people cope with their substance use or their recovery process is the structure, routine and reliability of community supports. Because a lot of programs and services have their doors closed, people's routines are out of whack, and they're missing that social interaction and connection.
The drug trade is still going to operate despite being disrupted by the pandemic. Fewer ships into the port of St. John's means limited drug supply, which in turn means higher prices. All of this leaves people feeling desperate, with some considering robberies or having a higher potential of withdrawal. The lack of access to drugs also means dealers will cut their supply with other toxic substances to stretch it out, leaving those who use drugs subjected to an increased risk of overdose.
Come together, stay connected
It's impossible to predict with accuracy the trajectory of this novel virus and its effects on people who use drugs, but there's one thing we know for certain: Now more than ever, it's paramount for people to come together as a community and try to stay as connected as possible, even during a pandemic. We have to be strong for those who can't be strong on their own and we have to continue our harm reduction efforts to avoid more pain and suffering than what we're already witnessed.
Brandon Hinton is a harm reduction assistant with the Safe Works Access Program (SWAP) at the AIDS Committee of Newfoundland and Labrador.
Are you interested in learning more about how you can adapt your HIV or hepatitis C programming during the COVID-19 pandemic? Click here for a webinar on the topic.