Organizing our grief: A collaboration in response to the overdose crisis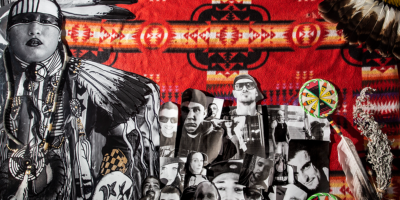 Organizing Our Grief: A Collaboration in Response to the Overdose Crisis is a free online publication that aims to capture and communicate a mobile public artwork and event series called Wish You Were Here, Wish Here Was Better, that made space for people impacted by the ongoing overdose and toxic drug crisis. Central to WYWH, WHWB was a mural by artist Les Harper, entitled ekisâkihitin ("I love you" in Cree), that features the images of 19 people from the Peel region who died due to overdoses. We published Organizing Our Grief as part of Living with Concepts, a series of publications from Blackwood Gallery that foster advocacy, dialogue and resource-sharing. We wanted to document the WYWH, WHWB project along with hope for the future for people experiencing grief in response to the overdose and toxic drug crisis.
It was with great excitement that we were invited by CATIE to share the Organizing Our Grief publication and provide some context. The ongoing HIV response has informed much of our work on the publication and the WYWH, WHWB project, specifically the ways in which mourning, righteous anger, harm reduction and resource-sharing have long been key pillars of how communities impacted by AIDS have fought and continue to fight to survive, thrive and die with dignity.
We are also happy to share this publication with the CATIE community because of the important overlap between drugs and HIV. Not only do some individuals use drugs and live with HIV, there is also a meaningful, historic and ongoing relationship between the response to the war on drugs and the response to HIV. Additionally, many of the earliest and most effective HIV prevention initiatives were led by people who use drugs, such as the creation of needle exchange programs and safer consumption sites.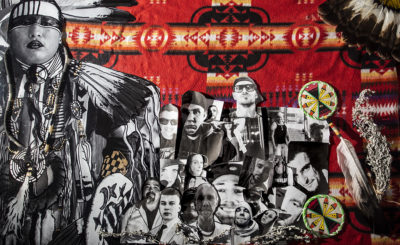 Our goal in creating Organizing Our Grief and sharing it now with CATIE Blog readers, is to inspire people and inform them about how they can create similar projects to WYWH, WHWB in their own communities. This may mean replicating our project, or, more reasonably, it could mean having conversations with people in community impacted by bad drug policy and preventable premature death due to overdose. This can help find ways of making space for grief and frustration, and build from there to create and organize for a better future.
Below are two excerpts from Organizing Our Grief that provide further information about WYWH, WHWB, the publication and some of the passion behind the work.
Moving parts: Making a roving public memorial (excerpt)

Karie Liao, Fraser McCallum, Jacqui Usiskin (Blackwood Gallery)
Wish You Were Here, Wish Here Was Better (WYWH, WHWB) was a week-long public art project and program series organized by community organizer and scholar Zoë Dodd, artist and Plains Cree health promoter Les Harper, writer Theodore (ted) Kerr, and curator-scholar Ellyn Walker. The project created space for grief, solidarity and mobilization amongst people affected by the ongoing overdose crisis and its related systemic impacts, including precarity, houselessness and criminalization. It offered opportunities to collectively mourn while imagining and working towards a more just future. As a roving public memorial and community-centred project, there were many moving parts considered in its development and delivery; below and throughout this publication, we share our strategies and decisions as a resource for organizers who wish to replicate or build on aspects of the project.
This report is not envisioned as a comprehensive instructional document, but rather a case study that can function as an iterative guide on how organizations, organizers, and groups (in and beyond the visual arts) might meaningfully engage with people who use drugs. Taking on various formats and styles, contributions to this publication reflect on harm reduction practice, collaboration with social service providers, ways of connecting with communities affected by the overdose crisis, and methods for framing art and artmaking as tools for memorialization and mobilization. To begin, we set the table by outlining the project's parameters and local context.
The solution to the toxic drug death crisis is a non-carceral future (excerpt)

Zoë Dodd
Responses to the toxic drug death crisis have been hindered by right-wing ideology and those who want to maintain a grip on archaic, violent and oppressive drug laws. The need to change drug laws and policies is necessary to end a preventable crisis. So while we fight and work to save each other, we have to find ways to honour and care for our grief and loss, too. Grief and death can bring more loss—they contribute to factors that increase a person's vulnerability to death. Whole families, siblings, parents have been lost, unable to cope with the painful grasp of loss that can take over.
Public acts of mourning help us collectively, as a society, come to a shared understanding of how we got to today. This includes sharing our stories, mourning together, and educating one another on the causes and the solutions. When we understand how the system works and operates, how it affects groups of people differently, that knowledge is a tool—it is power to be harnessed, so that more people don't die.
Actions like claiming space to mourn in public have been healing for many of us who have been fighting a long time to end the toxic drug death crisis. These actions force you to not be swallowed by grief entirely and to divert that energy into change.
Wish You Were Here, Wish Here Was Better was a mobile public artwork and event series that made space for people impacted by the ongoing overdose crisis produced by Blackwood Gallery, supporting the vision and work of Ellyn Walker, Zoë Dodd, Les Harper and Theodore (ted) Kerr.