Remembering Joanne Lindsay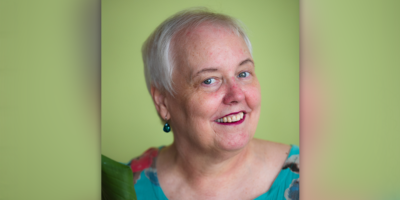 I was deeply saddened to learn the news of Joanne Lindsay's passing from cancer on July 15, 2023, surrounded by her husband Hamza, son Charlie and daughter Chiku.
Joanne was first elected to CATIE's board of directors in 2017 and served as its treasurer for the last five years. She was a passionate community leader and contributed to the governance of multiple community-based organizations and programs, as well as being involved as a researcher, educator, mentor and community activist. I know that her former colleagues at the Ontario HIV Treatment Network, the Ontario AIDS Network, the MAP Centre for Urban Health Solutions and the Toronto PWA Foundation share in our grief.
Joanne was the very deserved recipient of the Red Ribbon Award bestowed by the Canadian Association for HIV Research only a few months ago. As well as enthusiastically contributing to designing and conducting research, she was a tremendous educator and community advocate for women's health and programming, with a particular interest in the link between HIV, HPV and cancer risk for positive women. She was a mentor for community members becoming engaged in the research process, a critical thinker, and highly skilled at facilitation and conveying research results to community members in meaningful ways.
She embodied the very mandate of CATIE – to share knowledge that involves, engages and positively impacts the lives of people living with HIV. Joanne was genuinely curious, interested and engaged in her volunteer and paid activities. She would ask questions and contribute insights in a manner that helped move the dialogue forward, raising difficult issues without offence, not leaving anyone behind in her always kind and generous manner.
Joanne had impeccable integrity and was incredibly gracious and generous, always expressing interest in other's lives and not shying away from intimacy and intensity in her relationships. Her passion, unwavering commitment and invaluable support to people living with HIV and to many of us in "the movement" will be missed deeply.
Laurie Edmiston served as CATIE's executive director from 2003 to 2022.