Treating hepatitis C in children: How does it work?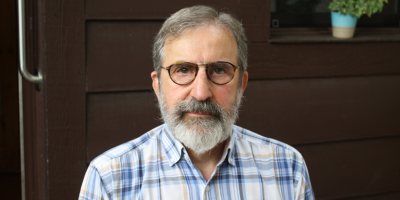 Did you know that hepatitis C is a liver infection that can be cured within eight to 12 weeks thanks to treatments that are nearly 100% effective? Called direct-acting antivirals, these treatments were first designed for people over the age of 18, but treatment options for people under the age of 18 have also been developed in recent years. This includes a treatment approved in Canada for children aged three years and older, which is a game changer in the pediatric context.
Romane Close, CATIE's specialist for resource development and knowledge mobilization, had the chance to speak with Dr. Fernando Alvarez, a researcher and pediatric hepatologist at CHU Sainte-Justine in Montréal, to better understand the treatment process for children with hepatitis C and to explore how these recent developments constitute an improvement for the youngest patients.
What groups of children are at risk of contracting hepatitis C?
Among young people 18 and under, three groups are at risk of having a chronic infection caused by the hepatitis C virus.
The first group is children born to a mother* who has hepatitis C. The virus can be passed from the mother to the child during pregnancy or childbirth. This is the main route for hepatitis C transmission to children, and the risk of transmission is about 5%.
The next group is children who immigrate from countries where there is a high prevalence of hepatitis C. In their countries of origin, hepatitis C transmission mainly occurs during unsafe medical and dental practices, but it is also passed during pregnancy and childbirth.
The last group is adolescents who use drugs. Hepatitis C can be transmitted when people share materials to inject, smoke or snort drugs.
*Dr. Alvarez uses the term 'mother', but CATIE acknowledges that this applies to any parent who gives birth, regardless of their gender identity.
How does hepatitis C infection progress in children?
About a quarter of children who contracted hepatitis C during pregnancy or childbirth will clear the virus without treatment in the first two or three years of their lives. As such, during the first three years of a child's life, they are monitored and tested regularly to find out whether they still have hepatitis C or have cleared it on their own without treatment.
For children and adolescents who are diagnosed with chronic hepatitis C, infection-related complications are rare. For example, up to the age of 18, it is very unusual for fibrosis, meaning scarring of the liver, to appear, and it is even rarer to see cirrhosis, which is a serious complication of the liver.
Since 1986, CHU Sainte-Justine has been the only centre for pediatric transplants in Quebec and they've only performed one liver transplant on a child with hepatitis C. In that case, health issues in addition to hepatitis C made it necessary to carry out a transplant.
What tests do you use for children born to a mother who has hepatitis C?
To confirm a hepatitis C diagnosis, in general we need to perform two tests. First, we test for the presence of antibodies against the hepatitis C virus to determine whether the person has ever been exposed to the virus. If this test is positive, a confirmation test is done to detect the presence of the hepatitis C virus in the blood.
To determine whether a child born to a mother with hepatitis C has contracted the virus, we move directly to the confirmation test. The antibody test is not useful until the child is 18 months old because the antibodies detected would be those passed on by the mother through the placenta and wouldn't help us with diagnosis.
How do you manage a hepatitis C diagnosis in children and adolescents?
We conduct annual follow-ups with children who have hepatitis C, where we perform lab tests and abdominal ultrasounds to detect whether any infection-related complications are beginning to arise. Even though the risk is very rare, we must not neglect this, particularly among children. If anomalies are detected during an annual follow-up, we increase the frequency to every three to six months and perform more extensive exams.
Now that treatment is available for children aged three years and older, and there are more treatment options for children aged 12 years and older, this makes providing medical care a great deal easier and we will make use of these options.
The treatment for children aged three years and older comes in the form of granules in sachets and is generally taken over the course of eight weeks. It's a combination of two medications, glecaprevir and pibrentasvir (Maviret)*.
Treatments for children aged 12 years and older come in pill form and are generally taken for eight or 12 weeks. Treatment options include: glecaprevir and pibrentasvir (Maviret), velpatasvir and sofosbuvir (Epclusa) and ledipasvir and sofosbuvir (Harvoni).
*Note from CATIE: At the time of publishing, the formulation of glecaprevir and pibrentasvir (Maviret) in granules in sachets for children aged three years and older is not available through public drug programs in any jurisdiction in Canada. Access for those without coverage may be possible through a pharmaceutical company.
What are the benefits of treating hepatitis C in children and adolescents?
Treating a child early and curing their hepatitis C infection will greatly improve their quality of life and that of their family. It's like no longer having a sword of Damocles hanging over their head, thinking that at any moment complications could arise from the infection with the hepatitis C virus. As well, when the virus disappears from the blood through being cured, it removes the potential risk of onward transmission.
What advice would you give to healthcare providers and other service providers who work with people at risk of contracting hepatitis C?
In Canada, there's a whole movement seeking to eliminate hepatitis C as a public health threat, and thanks to the current availability of effective treatments, we can now dream of making that a reality. The problem for us, as pediatric hepatologists, is that the patients we treat represent only a small proportion of the children and adolescents who have chronic hepatitis C. Hepatitis C tests are done as part of frontline healthcare, so we depend on frontline healthcare providers when it comes to raising awareness about this illness. Hepatitis C testing would have to be provided more often to groups at risk of contracting the virus, including children born to a mother who has hepatitis C, adolescents who use drugs, as well as children and adolescents who immigrate from countries where the infection is endemic.
We're ready to see and treat all children and adolescents who have hepatitis C, but we need to raise awareness among our frontline colleagues about this possibility and, above all, make sure that screening tests are done. That is how we'll succeed in eliminating hepatitis C as a public health threat!
Dr. Fernando Alvarez holds a medical degree from the University of Buenos Aires (Argentina) and did his pediatrics residency at the Buenos Aires Children's Hospital. He then pursued two courses of postdoctoral education at the Hôpital Bicêtre, Université de Paris (France) and at the Department of Cell Biology at New York University (United States). He earned certifications in pediatrics (Buenos Aires) and pediatric hepatology (Pediatrics Society of Argentina).
His fields of expertise are pediatric hepatology and liver transplants. His research looks at immunological illnesses of the liver in children, autoimmune hepatitis in animal models, neonatal cholestasis and chronic viral hepatitis. Dr. Alvarez is the director of the liver transplant program at CHU Sainte-Justine.
In the course of his career, Dr. Alvarez has earned numerous marks of distinction, including the CASL-CLF Sass-Kortsak Award given by the Canadian Liver Foundation in partnership with the Canadian Association for the Study of the Liver.