The Medicine Bundle: An Indigenous approach to HIV self-testing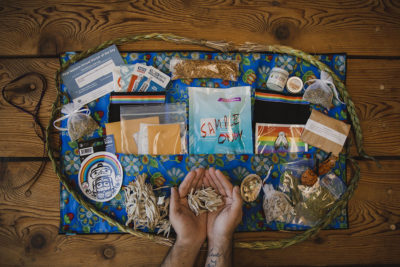 In April 2022, the Two-Spirit Program at Community-Based Research Centre (CBRC) launched the pilot of the Medicine Bundle, an HIV self-testing initiative in British Columbia created by and for Two-Spirit and LGBTQ+ Indigenous folks. The pilot emerged from nearly two years of consultation and engagement with Elders, activists, researchers and community members within the Two-Spirit community, who provided guidance on culturally sensitive and intentional ways to address disparities in access to HIV testing.
Following its initial run in August 2022, the Medicine Bundle has now returned to once again serve Indigenous folks wishing to access HIV self-testing. This time around, the project is being offered in tandem with CBRC's Test@Home initiative, a nationwide plan to distribute 15,000 self-tests across the country.
What is the Medicine Bundle?
Medicine Bundles, also known as sacred bundles, hold deep meaning among many Indigenous groups across Turtle Island. Often, they contain gifts or objects either used in ceremony or to guide us along our life journeys. They remind, strengthen, teach and guide us as we move through the world.
In conversations around how we care for others, we discussed how it's not sufficient to only provide for the physical needs of those we aim to serve. We are often taught that we must also be conscious of the mental, emotional and spiritual aspects of ourselves. The Medicine Bundle was our attempt to address as many of these needs as possible.
Recognizing that advances in modern medicine can benefit our Indigenous kin, the Two-Spirit Program at CBRC aimed to weave biomedical resources with traditional medicines that have healed our communities since long before colonial contact. The Medicine Bundle contains a variety of traditional medicines (sage, sweetgrass, cedar, etc.), as well as sexual health resources (INSTI HIV self-tests, internal and external condoms, lube and information). During the pilot, these Bundles were mailed out across BC, which helped address barriers to accessing appropriate sexual health resources in rural and remote communities.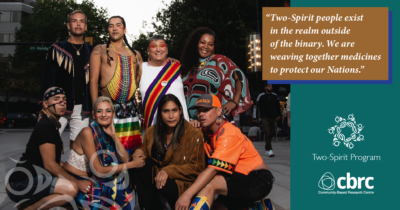 Why we launched this project
Sex is natural and the exchange that occurs between bodies should be honoured in all its consensual forms. As the types of sex people have are vast and varied, so too are the teachings and uses of traditional medicines across the many Nations inhabiting Turtle Island. Through this initiative, we hoped to "bring the sacredness back into sex" with the aim of reducing stigma around sexuality, HIV and sexual health.
The impact of colonization and Christianity has stifled dialogue around these topics within Indigenous communities, which has limited the sharing of knowledge that could improve uptake of HIV and STI testing, treatment, prevention and care.
Also, the continued erasure and rejection of many Two-Spirit people has separated them from their historical reverence and contributions to their communities before colonization. By placing Two-Spirit people at the forefront of this initiative, the Two-Spirit Program aimed to increase awareness and representation of Two-Spirit people more broadly.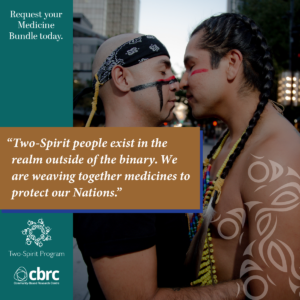 Our approach to this work
Given the complex relationship and history between Indigenous people and the health service system in Canada, choice and autonomy were expressed as priorities by the Two-Spirit community in the development of this pilot. This is why it was essential for us to ensure that those receiving a Bundle were personally able to select what it included. Further, although the Medicine Bundle was focused on Two-Spirit people, anyone in British Columbia who self-identified as Indigenous was able to receive one.
Creating opportunities that not only position Indigenous people as the ones accessing resources but also as providers, uplifts and strengthens community. The development of the Medicine Bundle occurred in collaboration with a guidance committee of Two-Spirit Elders, Knowledge Keepers, activists and community members from across British Columbia. Their input was an integral part of realizing our hopes for the Medicine Bundle and their thoughts, perspectives, and concerns ensured we continued to move forward with this work in a good way. Every step of the pilot was presented to the Guidance Committee before implementation to ensure many eyes and many voices were involved in making the project a reality.
An essential piece of the Medicine Bundle pilot was the Trusted Messenger Program, consisting of eight Two-Spirit people and Indigenous women across the five health authorities in British Columbia. Indigenous people are experts in their own communities and have the advantage of effectively providing sexual health guidance to Indigenous people in ways that cannot be achieved by non-Indigenous folks. These individuals held many roles within their communities, and it is from that lived knowledge that they were able to connect with others and share the Medicine Bundle. Creating opportunity within the community allowed for dialogue to continue after the pilot, further establishing new networks and potential engagement with future initiatives from those involved in the Trusted Messenger Program.
The Medicine Bundle as research project
The Medicine Bundle pilot was also a research initiative, as those accessing Bundles were presented with a short survey to document their existing sexual health knowledge. While filling out the survey was not necessary to receive a Bundle, many chose to complete it.
Two-Spirit related data is often misinterpreted or diluted within broader LGBTQ+ research and our team felt it was vital to effectively capture the lived experiences of our community in order to emphasize patterns and needs for future initiatives. Beyond the survey data, we wanted to show that Indigenous-led and Indigenous-focused grassroots initiatives effectively serve the community.
Our hopes moving forward
We hope that the Medicine Bundle can continue to be adapted and used as an example and source of guidance for local organizations to create resources specific to the teachings and needs of the populations they serve. As the idea of the Medicine Bundle came from many minds, we hope the legacy of this project is carried on through the desire of others to work within and from their own organizations, Nations and communities.
As a complement to CBRC's Test@Home initiative, the Medicine Bundle remains available for community organizations in British Columbia as well as Indigenous folks across Canada, and can be ordered online here. For more information, please reach out to medicinebundle@cbrc.net

Lane Bonertz is the Two-Spirit Program Lead at CBRC, contributing to sexual health related programming and research that centres Indigenous identities, cultures and realities. He is Blackfoot and a member of Piikani Nation. Lane received his bachelor's degree in sexuality studies from York University, and is grateful for the encouragement and support of his Nation in the pursuit of his studies. He has worked and volunteered in various roles around the treatment and prevention of HIV and STBBIs, believing knowledge and access to resources empowers community.