Janet Conners, HIV activist extraordinaire, 1956 – 2022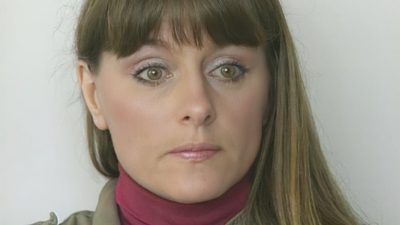 Some of us may be hearing Janet Conners' name for the first time, but all of us in the HIV/AIDS community owe her a debt of gratitude for the remarkable contributions she made while on this earth.
Janet was born Janet Pritchard in 1956 in Vancouver, and spent her childhood there before moving to Yellowknife, N.W.T, and Nelson, B.C. where her father's work as a prison warden took the family. As the middle child, she described herself as a born advocate: "I was middle of six, so you kind of have to be an activist. 'Hey, I need some food' – you had to lobby for your survival," she said in an interview with the AIDS Activist History Project.
Janet's son Angus was born during a first brief marriage, but she was a single mom in 1981 when she met the love of her life, Randy Conners, who was a young computer specialist at Veteran Affairs. Janet was then working as a lab technician at the infectious disease clinic of Victoria General Hospital. Randy also happened to be a hemophiliac who received many blood transfusions for his condition.
In the early 1980s, when HIV was spreading rapidly among gay men, the blood supply was putting hemophiliacs and transfusion recipients at risk. Randy tested positive and Janet, ignoring the doctors who insisted she was not at risk, also tested positive in 1989, a year when only single drug treatment options were available. Instead of accepting she had only six months to live, Janet and Randy reached out to then provincial Minister of Health, George Moody, who offered the couple limited compensation.
Rather than accept what Janet decried as "shut up and die money", she and Randy lobbied other provincial and the federal government for a joint compensation plan that eventually led to the establishment of the Krever Commission of Inquiry. The Krever Commission resulted in comprehensive compensation for all victims of the tainted blood tragedy and the revamping of the Canadian Red Cross into the Canada Blood Services.
Janet would probably be pleased at the new regulations allowing gay men to donate blood today based on the same criteria as everyone else and not on sexual orientation alone. Janet was the first to say she got HIV like everyone else, "by having sex" and in the years following her successful advocacy campaign, Janet worked with a number of organizations, including as president of the Nova Scotia Haemophiliac Society, vice chair of the AIDS Coalition of Nova Scotia, board member of the Canadian Treatment Action Council and member of the Nova Scotia Commission on AIDS.
Janet was also part of the group that led the advocacy to ensure the renewal of the National AIDS Strategy during the re-election campaign of Prime Minister Jean Chrétien in 1997. His commitments did not include a promise to renew this federal funding. On the first day of this campaign he was challenged about this omission from his campaign promises in Toronto. He then flew to the Atlantic provinces and Janet went to meet him to support this request. Shortly thereafter Chrétien announced a promise to renew the National AIDS Strategy in his list of election promises.
Janet strongly supported issues of common concern to all people living with HIV, regardless of sexual orientation, race, socio-economic status or any other factors. Of particular concern to her were access to HIV clinical trials and equitable access to treatment. She fought for the rights of women to receive gender specific information and to receive offers of testing based on self-assessment of risk. She  understood the distinct needs of women and children with HIV and spoke out about these publicly, even though the discrimination and stigma against people with HIV held the risk of ostracism and even violence.
The federal government recognized her amazing service to people in Canada with the Governor General's Meritorious Service Medal. According to her sister Ruth Pritchard, Janet was thrilled to receive three honorary doctorates from Dalhousie, Acadia and Mount St. Vincent University and jokingly referred to herself as Dr. Conners. Ruth added: "I hope people remember her for her bravery and her tenacity. I mean, my sister had guts!"
Her friend Donna travelled 11 hours to be at Janet's side when she died of an aggressive form of lung cancer that had remained undiagnosed. Donna, who is also living with HIV, said: "Janet will forever live on with every breath I take, for it was her support, love and encouragement that got me through the darkest days of my life".
Louise Binder is a lawyer who co-founded the Canadian Treatment Action Council (CTAC) in 1996, which advocated for better access to HIV treatments and quality care. Louise is presently Health Policy Consultant for the Save Your Skin Foundation. Louise has received an honorary doctorate of laws from her alma mater Queen's Law School, the Order of Ontario and two Queen Elizabeth II medals.
Ron Rosenes is a community health advocate and served as vice-chair of CTAC from 1997 to 2011. He is past chair of the HIV Legal Network. Ron has received an honorary doctorate of laws from his alma mater Carleton University, a Queen Elizabeth II medal and is a member of the Order of Canada.