If you build it, they will come: Creating an HIV and hepatitis C virtual classroom for Saskatchewan primary care providers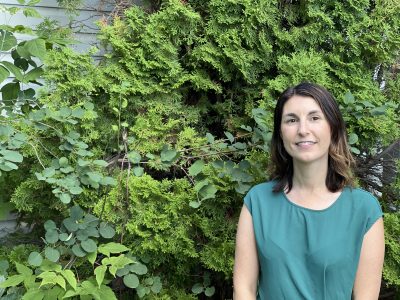 Saskatchewan Infectious Disease Care Network (SIDCN) is a non-profit organization created and directed by HIV and hepatitis C physician specialists. In addition to providing HIV and hepatitis C patient care and research projects, SIDCN administered a four-year continuing medical education program known as the HIV/HCV Primary Care Capacity Improvement Project. This project was funded using two consecutive two-year harm reduction fund grants from the Public Health Agency of Canada. 
How it started
The HIV/HCV Primary Care Capacity Improvement Project began in 2018 with a vision from two local HIV and hepatitis C specialists who were also SIDCN directors, treating a growing number of patients living with HIV and/or hepatitis C in Saskatchewan.
They recognized the urgent need to offer HIV and hepatitis C continuing medical education to family physicians, medical residents, nurse practitioners and registered nurses who were seeing increasing numbers of newly or currently diagnosed patients with these infections. These specialists hoped that with access to Saskatchewan-specific medical education, primary care providers would feel more confident and become better prepared to test, treat, manage, and prevent HIV and hepatitis C infections. This would ultimately increase and improve the capacity to offer HIV and hepatitis C care to people across the province in a variety of healthcare settings.
Why we created the program
There were several factors that led us to believe a program like this was needed and could be implemented in our province.
Because Saskatchewan has the highest rate of new HIV transmissions in Canada, along with the second highest reported rate of hepatitis C, we knew that something needed to be done to decrease these numbers.
HIV and hepatitis C treatments are becoming easier to manage and uncomplicated infections can be treated by primary care providers, so we wanted to increase healthcare workers' capacity to deliver treatment services.
We knew that primary care providers would benefit from receiving HIV and hepatitis C medical education and becoming aware of their roles in testing and treatment and how and when to seek support from specialists.
It became clear to us that increasing the capacity to treat and care for HIV and hepatitis C in primary care settings would also help prioritize the limited specialists' time for more complicated cases.
Creating a Saskatchewan-specific curriculum
There was a need to create Saskatchewan-specific education curriculum to reflect transmission trends and other treatment factors unique to the province. This included addressing injection drug use as the most common mode of transmission and discussing the importance of providing stigma-free, non-judgmental, and trauma-informed healthcare to patients.
Using a virtual classroom model
Providing education online allowed more providers to fit the courses into their busy schedules.  Even before the COVID-19 pandemic struck, our plan was to deliver our education online. A virtual model removed common participation barriers for primary care providers located across the province, such as travel and time constraints.
Our project created two courses: 1) HIV Virtual Classroom: Delivering Primary Care to People Living with HIV in Saskatchewan, which provided learners with eight hours of accredited continuing medical education, and 2) HCV Virtual Classroom: Treating and Curing HCV in Saskatchewan Primary Care, which provided learners with four hours of accredited continuing medical education. We grouped participants into small cohort groups (ranging from 10-20 learners) and presentations were delivered live by a HIV and/or hepatitis C medical expert. This allowed the participants to ask questions and build connections with their learning cohorts.
Both of these courses were delivered to learners with no cost to attend. After completing a course, eligible graduates (physicians and nurse practitioners) were encouraged to become new medication treatment prescribers. These new treatment prescribers were offered clinical preceptorship opportunities and mentorship by HIV and hepatitis C specialists to provide ongoing support.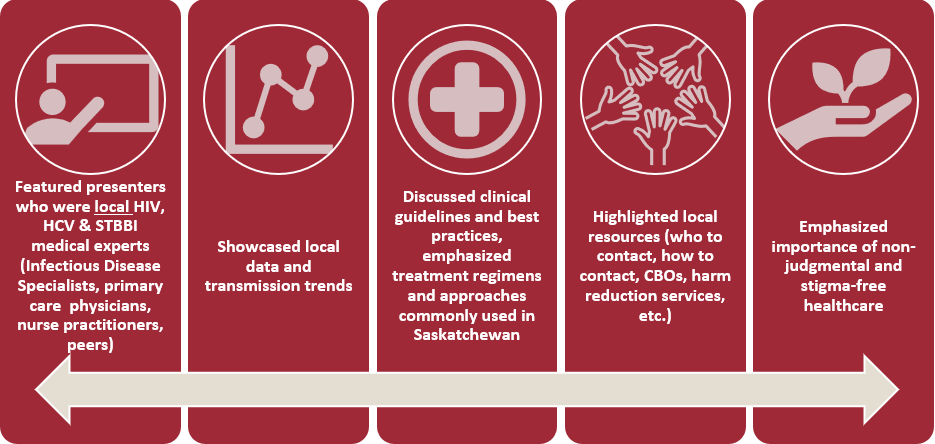 The reach and results
Between 2018 and 2022, the virtual classroom platform reached 350 unique primary care providers from 50 different Saskatchewan communities. The program was especially useful for reaching and educating rural and remote participants.
Post-participation surveys were administered immediately after each medical education session and the results were very favourable:
97% of learners received knowledge they will use in their primary care practices.
99% of graduates reported increased confidence to address these infections in their primary care settings.
Follow-up surveys assessed the impact of the medical education several months post-participation, also providing great feedback:
94% of HCV Virtual Classroom graduates and 97% of HIV Virtual Classroom graduates reported the education they received enhanced and increased their clinical practices.
Participants identified the use of local presenters and Saskatchewan-specific case studies as the most effective elements of our education model.
More importantly, our virtual classrooms increased treatment uptake. We successfully recruited, educated, and enrolled physicians and nurse practitioners as designated HIV and/or hepatitis C treatment prescribers for Saskatchewan. According to our findings, during our four-year grant, we added:
33 new HIV antiretroviral (ARV) medication prescribers, located in 12 different Saskatchewan communities.
38 new hepatitis direct-acting antiviral (DAA) medication prescribers, located in 16 different Saskatchewan communities
What we learned
Primary care providers are looking for medical education options to improve and maintain their ability to provide informed HIV and hepatitis C healthcare. In other words: if you build it, they will come!
The demand for our education exceeded our expectations, leading us to offer additional virtual classroom sessions and use our virtual classroom platform to deliver additional presentations related to sexually transmitted and bloodborne infections (STBBI).
Here's what one participant had to say: "Your program is so helpful and needed. Thank you for your work! I recommend you frequently to colleagues, medical students, and residents. You are filling an unmet need in Saskatchewan."
What's next
Based on program evaluation results and ongoing need, SIDCN advocated for the continuation of HIV, hepatitis C and STBBI medical education beyond their existing project. We partnered with the University of Saskatchewan, College of Medicine, Division of Continuing Medical Education (USask CME) and were successful in securing funding from the Saskatchewan's ministry of health for one year of funding.
In June 2022, USask CME started a new program known as the STBBI Treatment Education Program for Saskatchewan (S.T.E.P.S.). This new program will build and grow from SIDCN's project and continue to educate primary care providers in the province, including continuing the delivery of the HIV Virtual Classroom and HCV Virtual Classroom. Due to concerning and increasing number of syphilis infections in our province, STEPS is launching of the new Syphilis Virtual Classroom.
While working for the Saskatchewan Infectious Disease Care Network (SIDCN), Amanda Galambos coordinated the HIV/HCV Primary Care Capacity Improvement Project. After this project ended, she moved to the University of Saskatchewan, College of Medicine, Division of Continuing Medical Education as the new S.T.E.P.S. coordinator. To learn more about SIDCN's past project or S.T.E.P.S., contact Amanda.