Reaching out to immigrant communities during the pandemic and beyond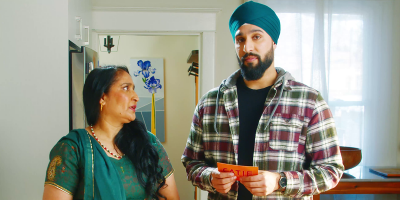 CATIE's immigrant and newcomer hepatitis C program, funded by the Ontario Ministry of Health, has been working for more than a decade with communities across the province with higher prevalence of hepatitis C, to increase the uptake of testing and treatment, link them to care and reduce stigma.
We have produced hepatitis C information resources in 11 languages commonly spoken by immigrant communities in the province; and we work more closely with the four largest immigrant communities in Ontario ─ Chinese, Filipino, Pakistani and Punjabi ─ to increase knowledge on hepatitis C screening, testing, treatment and care. Previously, most of this work was delivered through workshops and outreach tables at community events.   
Challenges posed by the pandemic
For more than a decade, the program's two-pronged community development and social marketing strategy had demonstrated success in reaching these diverse communities across Ontario. However, in early 2020, we were forced back to the drawing board.
COVID-19-related lockdowns and restrictions on public gatherings created challenges in maintaining in-person engagement and outreach. With reduced circulation of ethnic print media newspapers (generally distributed free-of-charge through neighbourhood supermarkets and grocery stores, which had fewer in-person customers, if any), we needed a new way to advertise to these communities. 
Taking a new approach
Considering these factors as well as a general trend towards online engagement, our program decided to adopt a digital-first approach soon after the COVID-19 pandemic started. What do we mean by digital-first? Rather than developing resources for print or in person, and then developing an online version, we considered online engagement to be the primary communication mechanism and structured our strategies around this.
We had apprehensions about this approach. Do immigrant communities have equitable access to smart devices and high-speed Internet for the digital-first approach to be successful? Armed with promising data and taking a leap of faith, we started by consulting our program partners, mainly community-based organizations that understand their communities' socio-economic and cultural dynamics. Many of them had already started offering various programs and services to their clients virtually. These consultations encouraged us that a digital-first approach could help us meet pandemic-related challenges and prepare for the expanded future needs of the program. 
From in-person to a virtual environment
The first step was to transition our community education program from in-person to a virtual environment. Our community education work includes hepatitis C basic workshops for the largest immigrant communities in Ontario, delivered in their languages. Before the pandemic, these workshops were organized at easily accessible community spaces: community centres, our partner organizations' offices, and places of worship like churches, mosques and gurudwaras. These workshops were usually two hours long, with food, transit and childcare subsidies provided to make them more available.
We adapted the workshop curriculum to suit the virtual environment, such as accommodating digital platform preferences (Zoom, Facebook Messenger, Google Teams or Google Meet), and we moved from paper-based workshop evaluations to online evaluations. 
From print media to social media
The other key step in implementing the digital-first strategy was to move our social marketing work from print ethnic media to social media. We developed a video campaign to more easily and impactfully share hepatitis C information with online audiences. We ran multilingual ads through Facebook, Instagram and YouTube to increase our targeted audiences' understanding of hepatitis C transmission, prevention and treatment. As a result of our social media advertising, the campaign has been seen almost 85,000 times. 
Hepatitis C awareness through influencers
We contracted social media influencers from immigrant communities to create relatable hepatitis C content disseminated through their own Instagram and YouTube channels. We selected four influencers: an Urdu-speaking woman from Calgary, a Punjabi-speaking man from Brampton, a Mandarin-speaking man based in Vancouver and a Tagalog/Filipino-speaking woman based in Prince George, B.C. The campaign demonstrated a high engagement rate, and in just six weeks the influencers' content had 650,000 views and 50,000 people engaged. The overall engagement rate for this campaign was four times higher than the average for the non-profit sector.
Digital-first approach beyond the pandemic
While COVID-19 has exposed long-standing social, racial and class inequities that immigrant communities face, it has also highlighted the communities' strengths and resilience. Many of our assumptions about the digital divide, like access to the Internet and smart devices, were not as significant as we had assumed. However, we are mindful that there are inherent linguistic and cultural barriers in the online environment for some people we are trying to reach. So, we will continue to employ many approaches to reach them.
The COVID-19 pandemic has had a tremendous influence on how people access information. Increased use of social media platforms to access information will stay here beyond COVID-19, and so will our efforts to incorporate the digital-first approach in our work.
Fozia Tanveer is CATIE's manager of immigrant and newcomer hepatitis C programming. She has been working with CATIE since 2011 and has a master's degree in development studies from the School of Oriental and African Studies, University of London.