A message from Laurie Edmiston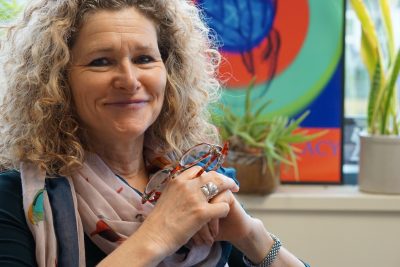 A message from Laurie Edmiston, executive director of CATIE:
Dear friends and colleagues,
It is with mixed emotions that I share with you my plans to retire this summer. As much as I love working at CATIE, there are many things I wish to do in life – maybe even during weekdays!
In the nearly 19 years I've worked at CATIE, I have seen tremendous advances in science and in the community response to HIV and hepatitis C. When I joined the organization, our sole mandate was the provision of HIV treatment information. I've been honoured to lead our growth to become Canada's knowledge broker for HIV and hepatitis C prevention, testing and treatment. Our more recent expansion into harm reduction knowledge exchange has felt like a fitting conclusion to my career in the HIV and hepatitis C response, which started when I set up Toronto's first needle/syringe exchange program in the late 1980s.
Throughout my career, I've had the opportunity to connect with amazing frontline service providers, policy-makers and people with lived experience throughout Canada and internationally. I have learned so much from friends and colleagues living with HIV and people with lived experience of hepatitis C. Through the stories and generosity of many Indigenous friends, partners and colleagues, I have developed a deep appreciation of ceremony and family in our work (I love that children are welcome at CAAN's gatherings) and the importance of land and our ancestors in intergenerational healing.
I have been fortunate to work with talented staff and board members. My tenure at CATIE has been extremely rewarding and I am confident I am leaving the organization in good hands with a stellar staff team.
CATIE's board of directors has established a hiring committee to recruit CATIE's next executive director, and has engaged the executive search firm Boyden to facilitate this process. For more information, you can contact Pamela Colquhoun at pcolquhoun@boyden.com.
With deep gratitude to my many colleagues and partners who share my love and dedication to this work, I wish you joy and well-being in your personal and professional lives, and I hope our paths continue to cross.
With great affection,
Laurie
After nearly 19 years at CATIE and an extensive career as a builder, leader and supporter of community health programs, Laurie Edmiston will retire as executive director in summer 2022. Please subscribe to The CATIE Exchange to receive and share information about the recruitment process for CATIE's next executive director, and to learn more about a future celebration of Laurie's career.