Improving HIV testing and care in Canada: I'm Ready and Sex Now – Test@Home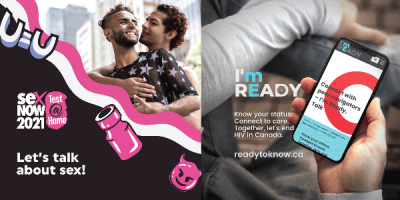 HIV self-testing was approved in Canada in November 2020, largely thanks to research conducted by REACH Nexus, part of Unity Health Toronto's Map Centre for Urban Health Solutions. But approval does not mean access – the next step is getting self-tests into the hands of people who don't know they have HIV, and linking them to follow-up treatment and care.
REACH and the Community-Based Research Centre are working on two initiatives that will help do just that: REACH's I'm Ready HIV self-testing research program (complete with the I'm Ready, Talk peer telehealth service, on which REACH partners with the CBRC) and the REACH-funded Test@Home component of the 2021 edition of CBRC's Sex Now survey.
To learn more about these initiatives, CATIE spoke with Prof. Nathan Lachowsky of CBRC and Dr. Sean B. Rourke of REACH.
What benefits does HIV self-testing offer over other testing methods?
Sean B. Rourke: Self-testing has the potential to be a game-changer for reaching people who are undiagnosed with HIV in Canada and to get them connected to care because of its privacy, ease of use, and the ability it gives people to test where and when they want and on their own terms. Many people don't get tested because of stigma or access barriers, and when you can yourself control the means and location of testing, it changes everything.
How has CBRC integrated self-testing into the Sex Now survey?
Nathan Lachowsky: We have been conducting the Sex Now survey annually since 2002. Over three-quarters of previous Sex Now participants told us they would try testing for HIV at home. So, CBRC has been working with REACH Nexus to provide new testing options for our communities of gay, bi, trans, Two-Spirit and queer men and non-binary people (GBT2Q). In our Sex Now 2019 home testing pilot, the vast majority had a positive experience, would use home testing again in the future, and found it easier than visiting their healthcare provider or going to a sexual health clinic. The need for more testing options was evident in findings from Sex Now 2020, where more than half of respondents reported delays in sexual health testing since the start of the COVID-19 pandemic. In response to this demand, CBRC launched Test Now in partnership with REACH Nexus, along with various innovative projects in testing and linkage to care.
What is the I'm Ready research program and how did it come about?
Sean B. Rourke: I'm Ready is a research program where we're sharing 50,000 free HIV self-testing kits and asking the people who will use them questions so we can improve HIV testing and care in Canada. We also built in a telehealth-style secure peer navigation service, I'm Ready, Talk, so participants can get support with connecting to care before, during and after they test, and we developed a content-rich website with care pathways per region in Canada and a knowledge base of frequently asked questions about HIV self-testing.
Our goal at REACH Nexus is to end HIV and HIV-related stigma in Canada. (We focus on stigma with our The Positive Effect initiative.) With I'm Ready, we're working to get everyone who needs it—no matter who they are or where they live in Canada—access to HIV testing and care, and we think focusing our work around HIV self-testing is a big part of making that dream a reality.
Why would some populations be better served by HIV self-testing?
Nathan Lachowsky: HIV has never affected people equally. From the beginning of the AIDS pandemic, social and structural factors have influenced who is more and less impacted by HIV, and who is supported in our responses. Unfortunately, not all of the communities and people who might get HIV are well served by current testing services. First and foremost, there are many gaps in sufficient testing options and services across Canada's diverse geographies. For example, some places do not have access to any kind of rapid testing. Further, concerns about confidentiality and anonymity in current testing options persist in community. These HIV self-tests are a downstream solution to many of these issues. These new research studies are important for us to understand who will use HIV self-testing and what their experiences are with it, so that we can ensure maximal and equitable benefit from these novel testing innovations.
After a person self-tests, how can they get connected to treatment or care, or prevention and ongoing testing if needed?
Sean B. Rourke: The most important thing for anyone to know is that there are services out there that can support them and connect them to community, whether it's for questions about testing or for support and care based on their results. If you feel ready to know your status, you don't have to take those steps alone. Someone can always reach out to their healthcare provider or their local HIV service organization, and they can consult our care pathways by province and territory on the I'm Ready website to see what services are available to them where they are. If someone is self-testing through the I'm Ready research program and they are a participant, our peer navigators at I'm Ready, Talk are there to help you connect to care. And if you're considering being a participant but aren't one yet, they can help answer your questions about I'm Ready. 
Dr. Sean B. Rourke is a clinical neuropsychologist and scientist with MAP Centre for Urban Health Solutions at St. Michael's Hospital, Unity Health Toronto, and is a professor of psychiatry at the University of Toronto. He is an international expert in the neurobehavioural complications of HIV. He is also the director of two national centres funded by Canadian Institutes of Health Research (CIHR): the CIHR-funded REACH Nexus and the CIHR Community-Based Research (CBR) Collaborative Centre for HIV, both of which focus on pragmatic solutions for HIV and other sexually transmitted and blood-borne infections (STBBIs) in Canada.
Prof. Nathan Lachowsky is an associate professor in the School of Public Health and Social Policy at the University of Victoria, research director at the CBRC and a Michael Smith Foundation for Health research scholar. Championing interdisciplinary and community-based approaches, he has conducted population health research with sexual and gender minoritized communities, particularly among gay, bisexual and queer men's communities – inclusive of Indigenous Two-Spirit, ethnoracialized and trans and non-binary people across Canada and Aotearoa New Zealand.