HIV prevention during the COVID-19 pandemic: How it started, how it's going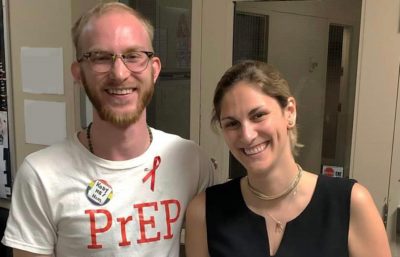 In the fall of 2017, HIV pre-exposure prophylaxis (PrEP) was listed in its generic form on the Ontario Drug Benefit (tenofovir disoproxil fumarate and emtricitabine). Prior to this, only those with private insurance were covered, and out-of-pocket costs were to the tune of $1000 per month without insurance. It was this increased access and a lack of prescribers in our region that inspired us, a nurse practitioner and a gay men's outreach worker for a local HIV service organization, to collaborate on a self-referral HIV prevention clinic.
Now, more than a year after the first Canadian COVID-19 case, we are struggling not just with a second, simultaneous pandemic in addition to HIV/AIDS, which has resulted in a change in the way people connect, engage in sexual activity and seek healthcare. This has an impact on how people access and take PrEP and has created a whole new set of challenges to address.
Offering PrEP out of a community agency
Our clinic began as a nurse-practitioner-led partnership with a local HIV organization that was already doing outreach to gay men through apps like Grindr and at a local bathhouse. The organization had noted that the most common question was how people could access PrEP – clearly an unmet need in our community.
We started to offer appointments for PrEP at the HIV organization, rather than in a traditional clinic setting. The uptake was immediate. It also allowed us to engage more gay men in the services of the organization, including ongoing follow-ups and support. We then collaborated with service providers working with women and African, Caribbean, and Black people, to better engage their communities with the clinic as well. We also placed ads in the safe consumption site and sought referrals from the site's harm reduction workers.
Disrupting communities, disrupting connections
COVID-19 has vastly changed the landscape of communities – where and how they congregate, and how they can be reached. When we opened the clinic, we knew that loneliness was a challenge for many gay, bisexual, queer and trans people. Hook-up apps, bathhouses and queer bars have historically provided opportunities for queer and trans people to connect, although many of these venues can be more accommodating to cisgender, white, gay men, and less welcoming for many marginalized queers.
Casual sex is often one way for a friendship or romance to start and can be important in forming communities. Now that people are understandably more hesitant to meet in person, Grindr offers a video-chat option, but online interactions do not provide the type of physical intimacy that some people are craving.
Bathhouses were hard hit during the height of the AIDS crisis and then were further diminished with the advent of online hook-up culture. Now bathhouses must contend with this new pandemic, forcing many to close for the duration of the COVID-19 pandemic. Queer bars are experiencing the same problem – some have permanently shut down, unable to exist without any revenue.
These closures have fragmented communities, not only contributing to the pre-existing social isolation of queer folks, but also posing further challenges to HIV prevention. Like many clinics, we began offering the option of virtual appointments, but many of our clients have voiced that they miss the personalized services offered during our face-to-face visits, such as the agency's community programming for priority populations and mental health services. 
Fewer people accessing HIV prevention services
There has also been a decrease in new intakes for the clinic, which means fewer people are accessing PrEP. Current restrictions prevent us from doing in-person outreach to raise awareness about the clinic's services. While it is possible that some people are having less sex than before the COVID-19 pandemic started, it may also be the case that we are not expecting to have as much sex and thus are being caught by surprise when an opportunity arises.
In addition, the existing stigma surrounding gay sex is now impacted by the stigma around having sex during the COVID-19 pandemic, which leads to a decrease in sexual healthcare-seeking behaviours, including seeking PrEP, post-exposure prophylaxis (PEP) and HIV testing.
We provide comprehensive sexual health screening for all clients throughout their PrEP care, but since we have fewer new clients, this also means less testing, diagnosis and treatment of sexually transmitted and blood-borne infections. We are seeing clients lost to follow-up, leaving us unsure if they stopped being sexually active, stopped using PrEP, or perhaps are struggling with other circumstances.
Changing HIV prevention strategies
Of course, if an individual no longer feels they need to take PrEP on a daily basis, they can change their prevention strategy. But it is important that they do so in consultation with a service provider. Canadian PrEP guidelines provide guidance on an alternative "on-demand" dosing schedule for some populations in consultation with a service provider, with two pills taken two to 24 hours before sex, one pill 24 hours after the first dose, and another pill 24 hours after that. We have heard anecdotally that clients of PrEP clinics are making the switch on their own or discontinuing PrEP altogether without follow-up.
Although multiple prevention options are presented in a first appointment for PrEP, the amount of information for both clients and novice PrEP providers can be overwhelming. To address this need, we created a comparison chart, a handy resource to go over with clients during their visit or useful to hang up in public or clinical spaces. Now that COVID-19 is changing the amount or way we have sex, this chart compared daily and on-demand PrEP, as well as "PEP in Pocket" (PIP).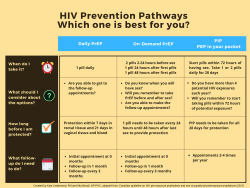 Click on images to make them larger
COVID-19 increasing women's vulnerability
COVID-19 has increased both the amount of intimate partner violence and street-based sexual violence women are experiencing. This violence is coupled with an increase in homelessness, sexual activity that may be less safe than prior to the COVID-19 pandemic, as well as the re-use of drug use equipment.
Despite women potentially having an increased risk for HIV acquisition, obstacles continue to exist for women accessing PrEP. The first is that women may not know PrEP is available to them. One U.S. study of 144 women noted that women were frustrated and angry that PrEP was not presented to them as a health promotion option, speaking to a lack of marketing of PrEP to women, as well as a lack of community and provider awareness. 
In addition to PrEP, women should also be offered PEP in Pocket, or PIP. Although PEP has been offered following sexual violence or needlestick injuries for years, attending a busy emergency room following a traumatic event may be re-traumatizing.
People seeking PIP would have baseline bloodwork and receive medication in advance, allowing them to regain power over the situation – and still taking medication within 72 hours of a potential exposure. In any circumstance, whether someone prefers to use PrEP or PIP, comprehensive sexual healthcare allows opportunities for immunization, presentation of different contraception methods, testing and mental health services.
COVID-19 has changed clinical services and the sex lives of many people around the globe, especially marginalized folks. It has not changed our resolve to offer comprehensive, non-judgmental, anti-oppressive and sex-positive sexual healthcare to communities. Our hope is that our resource about PrEP and PIP will encourage both sexually active readers and community providers to learn more about the options available to them.
Getting these revolutionary HIV prevention methods into the hands of those who need them has been deeply strained by the COVID-19 pandemic. However, with informed and collaborative care, we can ensure a move forward so that HIV is not left behind.
Mia Biondi, PhD, NP-PHC, is a primary care nurse practitioner (NP), with focused practices in HIV prevention and viral hepatitis; and volunteers as an NP to support persons at risk of, or who are being trafficked. Mia's research focuses on increasing HIV, hepatitis B and C prevention, screening, and management through alternative systems approaches. Mia is an educator in the Ontario NP-certificate program.
Kody Muncaster, MA, is a scholar engaged in community-based research and consulting on HIV, HCV, anti-oppression, queer and trans health, and suicide prevention. Their current research examines the Ontario AIDS sector's capacity to work collaboratively with communities to combat queer suicide.
HIV Prevention Pathways: Daily/On-Demand PrEP and PIP was created by Kate Underwood and Mia Biondi.