More options for HIV testing in Canada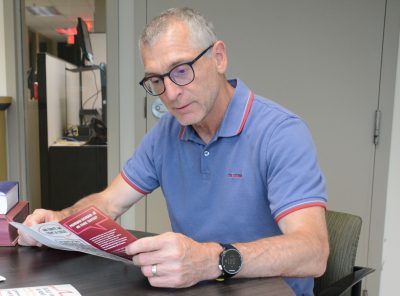 Testing is an essential part of the HIV cascade of care. People living with HIV can only be linked to treatment, care and support services if they have been diagnosed. Once a person is diagnosed, effective treatment will enable them to live a long and healthy life, to have HIV-negative children, and not have to worry about passing on HIV to their sex partners. People who test negative and are at ongoing risk for HIV can be linked to prevention, harm reduction and other services as necessary.
The latest HIV estimates from 2016 tell us that an estimated 86 percent of Canadians living with HIV have been diagnosed, which means that the other 14 percent, or over 9,000 Canadians, are living with HIV and don't know it.
If Canada is to increase the proportion of people diagnosed with HIV, we need to find ways to expand the ways people can get tested. Having more options will help to overcome some of the barriers that people experience, such as stigma, privacy concerns, or travel and wait times.
HIV self-testing
In November 2020, Health Canada licensed the INSTI HIV Self Test, the first tool approved in Canada for individuals to test themselves for HIV. The test is easy to perform and only takes a minute to get a result. The self-test is only a screening test, so if someone receives a reactive (preliminary positive) result, they will need to have a confirmatory test performed by a healthcare provider to confirm the result.
The availability of this test means that anyone can test themselves for HIV in private. The test will initially be available for purchase online from the manufacturer for around $30 and some pharmacies may also choose to sell it.  Although cost could be a barrier to some people, the self-test does provide more flexibility to test for those people who can afford it. To increase access to self-testing, the Canadian Institutes of Health Research (CIHR) Centre for REACH 3.0 plans to purchase a quantity of self-test kits and make them available for individuals to receive by mail or pick-up from organizations across Canada, to help ensure that the kits can get into the hands of people who want to self test. Ottawa Public Health, in partnership with the AIDS Committee of Ottawa, MAX Ottawa, and the Ontario HIV Treatment Network (OHTN), already has a self-test pilot project underway in the Ottawa region.
Laboratory testing
There are still several other options for HIV testing in Canada in addition to the self-test. The majority of people in Canada get tested using the standard laboratory test, with a blood draw from the arm. The blood sample is sent to a lab where it first undergoes a screening test for HIV. If the screening test is reactive (preliminary positive) then a confirmatory test is done on the same sample to confirm the result. It can take up to two weeks to get the results back. The advantage of the standard test is that it provides a definite result from one blood draw. However, people need to access a healthcare or community-based service (such as their family doctor, community health centre or sexual health clinic) to get the test.
Point-of-care testing
A more convenient test is the rapid point-of-care (POC) test, which is available in some parts of Canada. The POC test has been available for almost two decades in Canada and uses the same technology as the self-test, but it is conducted by a service provider. This test involves a finger prick to draw a drop of blood, and the results are available within a minute or so. The result can be given to the client at the time of the test. However, because the POC test is a screening test, if the test is reactive (preliminary positive), a blood sample needs to be taken for a standard laboratory test to confirm a positive result. The advantage of the POC test is that it is quick, and the individual can be referred to appropriate HIV services depending on their result – including prevention programs or support and care.
Dried blood spot testing
Another testing option in Canada, while limited, is dried blood spot (DBS) testing. DBS testing uses a sample of blood from a finger prick that is collected as a blot on a card. The blood spot is dried at room temperature and mailed to a public health laboratory for screening and confirmatory testing. Currently, this collection technique is in limited use in Canada because only a few public health laboratories can process the DBS cards. DBS testing has the advantage of being able to be used in rural and remote areas because the samples are very stable once collected, and do not need to be refrigerated during transport. Dried blood spots can also be used to test for other blood-borne infections, including hepatitis B and hepatitis C.
Oral HIV testing
A second self-test is being studied in Canada in the hope that it will be approved within the next year. The OraQuick Oral HIV Test uses an oral swab rather than a finger prick to detect HIV. The test has been available in the U.S. for many years as both a POC test and a self-test, and it is easy to perform. To conduct the test, a person swabs their upper and lower gums and inserts the swab into a testing device. Results are available in 20 to 40 minutes. As with the INSTI HIV Self Test, the oral test is only a screening test, and a confirmatory blood test is required to confirm a positive test result. The advantage of the oral test is that a blood sample is not required to conduct the self-test, which may make it more acceptable to some people.
Testing for HIV and syphilis at the same time
Another interesting testing approach is a POC test that can detect both HIV and syphilis. Two tests are being studied in Canada, one by BioLytical, the maker of the current HIV POC test available in Canada, and the second by MedMira. Both are Canadian companies. As with the HIV POC test, the results are available within a minute or so. Confirmatory blood tests are required to confirm positive test results. Because the syphilis test looks for syphilis antibodies, it is not suitable for someone who has been previously diagnosed and treated for syphilis (as they have antibodies for life). Therefore, the POC test is unable to tell if someone with a past diagnosis of syphilis has acquired a new syphilis infection. These POC tests will be particularly useful as rates of syphilis are increasing across Canada.
If all goes well with current clinical trials, we will hopefully see the oral fluid self-test and the HIV/syphilis POC tests approved for use in Canada in the next year. Having different options to test will hopefully make it easier for people to get tested and help identify more Canadians who have HIV and are unaware of their status. Being aware of your HIV status is important for both HIV-negative people and people living with HIV, as it is the first step in linking people to prevention services or treatment and care.
Zak Knowles is CATIE's associate director of online content and publications. Before coming to CATIE, he worked as an HIV counsellor at Hassle Free Clinic, a sexual health clinic in downtown Toronto.