New lab process in B.C. simplifying the hepatitis C care cascade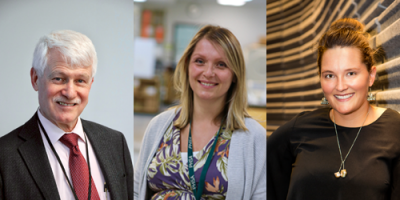 British Columbians can now be diagnosed with hepatitis C from a single blood test, saving time and money for both patients and the health care system. This is thanks to a new testing process introduced by the Public Health Laboratory at the B.C. Centre for Disease Control (BCCDC), known as hepatitis C (HCV) RNA reflex testing.
What did hepatitis C testing look like in B.C. before this new process?
Before this one-step process was introduced, patients needed to have two separate blood samples tested to be diagnosed with an active hepatitis C infection.
The first test looked for hepatitis C virus antibodies to determine if a person had ever been exposed to the virus. If positive, the person would need to go back to their healthcare provider to get a second test that looks for RNA, the genetic material of the virus, in order to confirm diagnosis of a current, chronic infection that requires treatment.
About 17 percent of individuals – almost 9,000 people – who tested antibody-positive in B.C. between 1990 and 2018 never had a follow-up RNA test, resulting in many people in the province not progressing along the hepatitis C care cascade to the following stages of linkage to care and treatment uptake.
In 2018, among all people who tested positive for hepatitis C antibodies and were still living in B.C., 83 percent had received a confirmatory hepatitis C RNA test. However, to achieve the targets set out in the Blueprint to Inform Hepatitis C Elimination Efforts in Canada, this needs to increase to 100 percent by 2030.
What does hepatitis C testing look like in B.C. in 2020?
Now, the BCCDC lab can do both hepatitis C tests on a single blood sample, saving each patient at least one visit that was previously required for follow-up care decisions.
This approach will also help to support providers and patients seeking and receiving care during the novel coronavirus disease (COVID-19) pandemic by reducing face-to-face contact time with healthcare providers and laboratories. The confirmatory hepatitis C RNA test is performed automatically by the lab if the first antibody test was positive, without a care provider having to order it on the test requisition form, and both test results are reported back to the care provider together (if the initial test was positive).
B.C. is now among the first provinces in Canada to adopt one-step hepatitis C testing at a provincial level. The results of a review published in the Canadian Medical Association Journal (CMAJ) demonstrate that there are now at least six other provinces and territories in Canada that have implemented hepatitis C RNA reflex testing.
What impact will this new process have?
We estimate that this new process will save B.C. taxpayers $226 per patient who is HCV antibody positive on sample collection, lab technician and healthcare provider costs. B.C. has been increasing hepatitis C testing over the last decade up to nearly 280,000 tests in 2019, so the new hepatitis C testing process will amount to up to an estimated $1 million in annual cost savings, based off the number of people who tested HCV antibody positive and would have been eligible for HCV RNA reflex testing in 2019.
Moreover, this new, one-step process will make a huge difference in closing gaps along the hepatitis C care cascade, so people living with hepatitis C can be linked with care and treatment before they develop more serious complications from the infection.
Prof .Mel Krajden is the Medical Director of the BCCDC Public Health Laboratory, the Medical Head of hepatitis at BCCDC and a Professor in the University of British Columbia (UBC) Department of Pathology & Laboratory Medicine.
Dr. Agatha Jassem is a Clinical Microbiologist and the Program Head of the Virology Lab at the BCCDC Public Health Laboratory. She is also a Clinical Assistant Professor in the Department of Pathology & Laboratory Medicine at UBC.
Dr. Sofia Bartlett is a Postdoctoral Research Fellow funded by the Canadian Institutes of Health Research and the Michael Smith Foundation for Health Research, and based at the BCCDC with the hepatitis program and the UBC Department of Pathology & Laboratory Medicine.