Can't Pass It On: Rainer and Eka's story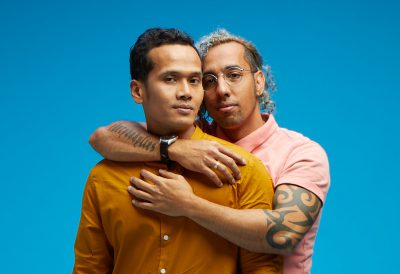 CATIE recently launched its Can't Pass It On campaign to increase awareness that people living with HIV on effective treatment can't pass it on to a partner. The series features real serodifferent couples with one HIV-positive and one HIV-negative partner. CATIE sat down with one of these couples, Rainer Oktovianus and Eka Nasution, to learn more about their story and why they chose to participate in the campaign. 
How did you guys meet?
Rainer: We met during a film festival in Jakarta, Indonesia. Eka was a volunteer and I was part of the planning committee. We were at the Institut français d'Indonésie and on that day, the audience was waiting for a solid five minutes for a film to start, but the screen was blank. So I went to the control room, and saw Eka struggling to operate the DVD player. I helped him, and noticed how cute he was. Here was this hunky guy struggling to operate a simple DVD player. We chatted, and I found him charming and smart. I think the brain is the sexiest part of a person.
At that time in my life, I was travelling a lot for my photography projects, but we kept in touch through text. I actually still have all of our chat messages since then.
How did you learn that Rainer was HIV-positive?
Eka: After our relationship started, I noticed Rainer caught colds easily and often had high fevers. This happened for several weeks with on-and-off symptoms. We decided to check our HIV status together at a clinic in Jakarta in April 2011. The nurse drew our blood in separate rooms. I got my result a day later, but Rainer didn't. After waiting about a week for the result, we went back to the clinic. The physician asked us to come into her office. I felt judged throughout the whole experience. She had one of her nurses present while giving us the diagnosis, without asking our consent. Anyway, when she asked us to sit down, she opened the paper with the test result on it, and told us that Rainer is HIV-positive. Rainer started his antiretroviral medications that day or shortly thereafter, and has been undetectable since then.
How did your diagnosis affect your relationship at first?
Rainer: When Eka found out, he instantly broke down and cried. I wasn't as worried because I was already well informed from my HIV education work and my activism for LGBTQ people in Indonesia. I'm not quite sure what was going through Eka's head, but I told him: "I'm not going to die and everything's going to be okay. It will just change my daily routine a bit." To be honest, I was prepared for him to leave me because of my HIV status. I was telling myself that I was just going to live my life to the fullest, and I told him that I wasn't afraid.
When did you first learn that people on effective HIV treatment can't pass it on through sex? What did you think?
Eka: The first time I learned about U=U (undetectable equals untransmittable) was from Rainer in 2015. Rainer was one of the delegates at the Asia and Pacific Coalition on Male Sexual Health (APCOM) conference in Bangkok, Thailand, and he told me what it means to have an undetectable viral load, about pre-exposure prophylaxis (PrEP), and other prevention information coming out of the conference. He even shared the resources from the conference with me.
Since U=U was unheard of back then, I was skeptical of this information. I felt as though it was too early to come to these conclusions. The effectiveness of HIV treatment to prevent transmission through sex still needed to be confirmed by data-driven evidence. So I waited for three years for the science to validate U=U, while also protecting myself with condoms, in the chance that these studies went sideways. At that time, I was also distrustful of U=U and PrEP because I thought that perhaps the pharmaceutical industry created these strategies so they could sell more medication.
Talking about your HIV status with one person is challenging enough. How did you find the courage to talk about it on camera?
Rainer: I feel as though I'm well-placed to get people to understand what the fuss is all about. I used to educate people about HIV before my diagnosis, and now I'm a person living with HIV. So I'm even better placed to speak up now. I want to practise what I preach. Nowadays, advocacy, support and education about HIV/AIDS flows more freely through social media. There are so many ways to get messages across and there's no better time to speak loud and proud. That's also why I started #BreakTheStigma, a project that tackles stigma surrounding LGBTQ, HIV, mental health issues and racism. The conversation need to starts somewhere.
What role can HIV-negative people play in reducing HIV stigma?
Eka: This is why I got involved in the Can't Pass It On campaign by CATIE, to reduce stigma. Our clips in the English video show what a serodifferent couple looks like: two people in love, living their lives to the fullest. I don't normally get to educate people about HIV/AIDS, so participating in the campaign allowed me to answer common questions that my peers and others might have, but in an informal way.
As an HIV-negative person, we can speak up and challenge people's lack of knowledge, or in most cases, their beliefs about HIV/AIDS, and talk about the negative ways stigma impacts us all.
To learn more and to order free posters and postcards, visit www.cantpassiton.ca.