The CTN: 30 years of driving Canada's HIV research efforts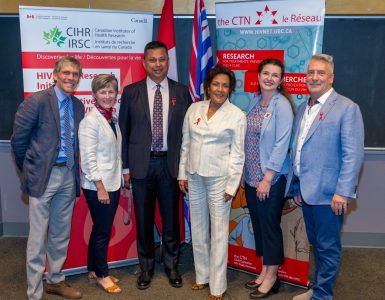 From left to right: Dr. Michael Allard (vice-dean, health engagement, UBC Faculty of Medicine), Dr. Jeannie Shoveller (chairperson of the CIHR Governing Council), Dr. Aslam Anis (CTN national director), The Honourable Hedy Fry (MP, Vancouver Centre), Dr. Melanie Murray (CTN investigator), Mr. Darren Lauscher (CTN Community Advisory Committee)
Thirty years ago, a group of scientists gathered around a kitchen table on Davie Street, in the heart of Vancouver's West End, to discuss ways to provide better care for and prolong the lives of people living with HIV who, at the time, were dying by the hundreds and extremely stigmatized. In Canada, there was not yet a network for physicians to come together and conduct HIV clinical trials. And so, the CIHR Canadian HIV Trials Network (CTN) was born, providing a platform for Canadian researchers to generate good scientific evidence.
Today, the CTN is a national hub of researchers, people living with HIV and their caregivers, governments, health advocates and the pharmaceutical and biotechnology industry. At the CTN, we believe that collaboration is key to maintaining momentum and maximizing the impact of research.
Since 1990, the CTN has played a central role in driving Canada's HIV research efforts by uniting researchers to develop treatments, prevention technologies and a cure for HIV and related health conditions. To celebrate our 30th anniversary, we launched a new website and produced an anniversary video, which is available on YouTube.
"Over the past three decades, the collaborative nature of the CTN continues to ensure that we are conducting cost-effective and efficient research that addresses the changing realities of the HIV epidemic," says CTN national director Dr. Aslam Anis.
Today, the Network is home to 140 investigators and is growing larger every year. You can find CTN investigators across the country and around the world — from Vancouver, Canada, to Cave Hill, Barbados. The Network also provides national and international postdoctoral fellows with the opportunity to gain hands-on experience in the HIV clinical research setting.
With this large pool of investigators comes a breadth of expertise and an optimal environment for knowledge sharing and collaboration, which is invaluable to the more than 300 CTN studies that exist to date. You may have heard of some! The Canadian HIV women's sexual and reproductive health cohort study (CHIWOS) aims to improve the lives of women living with HIV. Correlates of Healthy Aging iN GEriatric HIV Study (CHANGE HIV) looks at the complexities of HIV and aging. The Engage cohort study reports on HIV and sexually transmitted and bloodborne infection (STBBI) treatment and prevention among gay, bisexual and other men who have sex with men, while DRUM and SASH explore factors that impact HIV and STBBI prevention programs and services in First Nation and Métis communities.
If you would like to find out about trials that are actively enrolling participants, you can search our website.
But the buck doesn't stop with science and hard data. The HIV community is a vital cog in the CTN's wheel. Every study proposal submitted to the Network is rigorously reviewed by multiple committees, including the Community Advisory Committee (CAC), to ensure we are supporting relevant research; research that is timely, conducted to the highest quality and ethical standards and will have a genuinely positive impact on the HIV community.
The CAC itself comprises committed, passionate and broadly representative individuals who are either living with HIV or representing organizations that are responding to the epidemic. The team is a central part of our organization, contributing the crucial lived experience of the priorities and concerns of Canadians living with HIV.
"Since its first meeting in the spring of 1993, the CAC has helped guide and shape the work of the CTN through reviewing protocols and representing community," says Enrico Mandarino, chair of the CAC. "Community, of course, plays a vital role in HIV research. It would be simply impossible to do without the enormously valuable contributions of every study participant — past, present and future."
We are so thankful to every member of the CTN team, study participant and community partner, such as CATIE, who have shown nothing but dedication to improving the lives of people living with HIV. The field wouldn't be where it is today without the ongoing team work taking place across the globe.
Hannah Branch is a communications officer at the CIHR Canadian HIV Trials Network (CTN). After completing her degree in human biology at the University of Birmingham in 2012, Hannah pursued a career in healthcare communications, taking her on a transatlantic journey from London, U.K. to Vancouver, Canada.