Indigenous Youth Leaders are Taking Action on HIV in their Communities!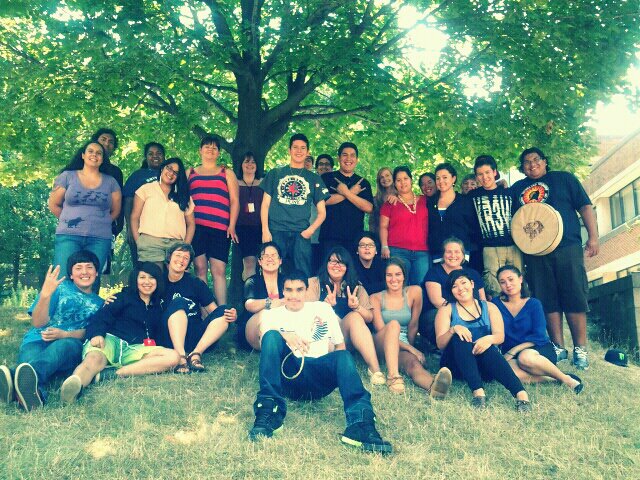 Taking Action II is a community-based action research project about building and supporting Indigenous youth leadership in the HIV/AIDS movement.  We are a group of Indigenous youth leaders, Indigenous community-based organizations and university-based researchers. We wanted to create awareness around HIV, sexual health, and decolonization in First Nations, Métis, and Inuit communities across Turtle Island (also known as Canada).
In Taking Action I, we worked with over 100 youth in six Indigenous communities across Canada to make art about the links between HIV and colonization. We did this as a way of broadening the conversations about HIV – to move away from the individual shame-and-blame discourse. We wanted to help communities understand and respond back to all the structural factors that have conspired to make them vulnerable to HIV: racism, poverty, land theft, residential schools, loss of language/culture, epidemics of addiction, the Sixties Scoop (the practice of taking Indigenous children and placing them in foster homes beginning in the 1960s) and ongoing child welfare involvement, incarceration, etc. Youth created a lot of amazing art that took up these themes. They loved our workshops and asked for more opportunities to get together with youth from other communities.
Taking Action II was born in response. Our goal was to continue to support and inspire Indigenous youth leaders to affect positive change in their communities. We put out a call for Indigenous youth to apply to participate.  We were looking for young people who had been active or had a strong interest in HIV prevention, treatment and/or support activities in their community.  A wide net was cast on potential applicants, encouraging both new and experienced  'leaders' to come forward. We were overwhelmed with the incredible youth that stepped forward.
We brought together 18 Indigenous youth leaders to create and share digital stories about what HIV means to them and their communities. We wanted to encourage youth to tell their own stories, and connect with communities, cultures and each other. We chose this method because we thought it would be a good way for us to bridge traditional Indigenous storytelling with contemporary storytelling technology. Also, we loved the idea that they could each have complete creative control over the stories they wanted to tell and how they wanted to tell them.
Each digital story is a short video that was written, filmed and produced by one of our youth leaders. The leaders came from the North, South, East and West.  All the stories challenge the conventional ABC (abstinence-be faithful-condomize) messaging that is so commonplace in HIV prevention work.  Rather than taking a behavior-change approach, these stories are first person accounts that use narrative to draw audiences in. They offer a different way of thinking about HIV: one that is centered in the context of Indigenous youth's lives and communities.  They talk about the ways that family, ceremony and knowing who you are can be protective. They talk about the real everyday challenges of overcoming the legacies of residential schools and addictions. They talk about Indigenous models of youth leadership and what it means to make hard choices about health in the context of difficult life experiences.
People love the stories!  After creating their stories, we helped youth screen them in dozens of locations across the country.  They were shared in living rooms, community centres, conferences and classrooms.  They sparked meaningful dialogue about the interconnections between HIV and other social determinants of health.  They also provided a way into the conversation that made people feel welcome and open to talk about the hard stuff happening in their communities, like poverty, racism, addictions and the challenges associated with reclaiming language, culture and traditional teachings.
We are so proud of the work of the youth leaders involved in this project! To check the stories out for yourself, see our website:  http://www.takingaction4youth.org/digital-stories/ .
For more information about the project, or ideas for hosting a curated movie night, you can check out our report here.
Sarah Flicker is an Associate Professor in the Faculty of Environmental Studies at York University in Toronto.  She is engaged in a program of research that focuses on youth HIV prevention and support as well as environmental, sexual and reproductive justice.
The Native Youth Sexual Health Network (NYSHN) is an organization by and for Indigenous youth that works across issues of sexual and reproductive health, rights and justice throughout the United States and Canada.