Lessons learned from the HCV Symposium Part 1: Blinders off, and who cleans up after the fight?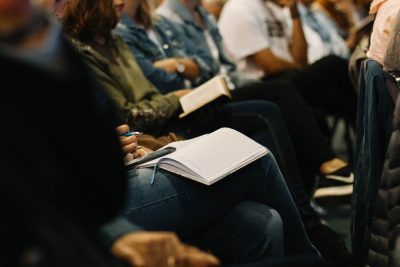 On February 27, 2016 CATIE had the opportunity to host another Learning Institute (LI) at the 5th Canadian Symposium on HCV in Montreal, Quebec. Learning Institutes are exciting knowledge-exchange and capacity-building opportunities for stakeholders engaged in Hep C prevention, treatment and care across Canada. Our 15 rapporteurs learned about current research and worked together to summarize that information and bring it back to their communities.
In part one of this two-part blog series, two rapporteurs reflect on their experiences at the LI.
Leona Quewezance, All Nations Hope, Regina
Overall, my experience was overwhelming but rewarding. I connected to community members from across Canada that I never would have met otherwise. The guest speakers captivated me, providing me with vital information of what hepatitis C (HCV) research looks like in different areas of the world.
From the data shared, I have come to realize that the numbers here in my own province of Saskatchewan are much higher. My frame of mind has changed and my blinders are off after hearing the numbers of HCV cases worldwide; I know that we are in trouble in the Prairies. One memory that has stayed with me is being told about children being born hepatitis C-positive in Egypt. I grow more sensitive to news like this and I must ask: What's in store for us here in Saskatchewan in the future without a strategy to address hepatitis C?
I would like to see research conducted on people living with hepatitis who are not accessing treatment that is available to them, and why. Last but not least, etiquette is crucial. For those conducting and reporting this research, please remember that all people are human beings not "subjects" and without them you'd have nothing. If we have insight and empathy, we can save lives.
Stephanie Massey, PASAN, Toronto
Have you ever watched a superhero movie? Or one of the many TV shows featuring a super-powered or just really rich and obsessive masked hero? Do you ever wonder just what the heck happens after the fights − after the hero saves the day, vanquishes the villain, and maybe gets the girl, or boy, or turns to the bottle (gritty!)? What happens to the communities left to clean up the rubble and face insurance costs, health-care costs, counselling needs, and reconstruction efforts with no guarantee of funding to rebuild or expand affordable housing?
I like to cast Hep C researchers in the roles of superheroes fighting the dreaded hepatitis C villain, wrestling it into submission with their superpowered-ovir drugs, dusting off their hands as they survey the damage around them, then saying, My work here is done. Onto the next fight! And off they fly, or run, or teleport. Maybe they just all load into a sensible station wagon and return to their definitely-not-a-mad-scientist-lab, leaving the folks living with Hep C and the Hep C support workers to navigate the debris and bureaucracy and to deal with the damage Hep C has left in our communities and bodies.
CATIE Learning Institutes (LIs) opened my eyes to the serious gaps between developments in Hep C research and the experiences of communities impacted by Hep C. I have had the opportunity to attend three CATIE LIs, all connected to the Annual Canadian Symposium on HCV. At each Symposium, researchers and doctors reported breakthroughs in treatment and prevention efforts. Initially, I couldn't wait to tell clients and colleagues about Direct Acting Antivirals (DAAs) — these drugs would get things done, wouldn't overstay their welcome, and wouldn't leave us literally pulling out our hair. The curtain had opened on a window of possibility for Hep C treatment, and hope had shone through. Then we realized the window had been nailed shut, each nail hammered in by price points and bureaucracy.
I learned about new Hep C medications, vaccine efforts, and prevention strategies from attending the Symposia, but the opportunity to participate in a network of support made the LIs essential to the work that I do. LI participants shared strategies for engaging community members— even when people couldn't qualify for treatment, for navigating the maze of private and public funders, and for advocacy around social and systemic issues impacting our communities. Thanks to the foundation of knowledge and skills gained from each successive CATIE LI, I don't feel like a wide-eyed extra stumbling through ruins, waiting for rescue by tights and capes − but a member of a community, fighting for health equity and justice.
Leona Quewezance has worked for the last 17 years in the field of HIV and hepatitis. Her passion is sharing knowledge in the community to help decrease the stigma and discrimination associated with hepatitis C. Currently the Program Director for All Nations Hope Network, she is responsible for the training sessions offered by the network. Leona trusts each promotional event in the field as an opportunity to provide awareness of prevention and reality.
Stephanie Massey started volunteering in harm reduction in Victoria, B.C. at a 2-for-1 needle exchange where she filled tiny bottles with water and bleach. She started getting paid for harm reduction work when she moved to Toronto about fifteen years ago. She has worked with PASAN since 2011 as the HCV Provincial Prison Program Coordinator offering workshops and one-on-one education for incarcerated folks on topics related to harm reduction, HIV and Hep C. She also collaborates with other agencies to support people during incarceration, release planning and re-integration, and to build community capacity to better support incarcerated and formerly incarcerated people.